Be 2021 staff training-ready
By Patricia Paolini, Business Development Manager - Training, Peak Services
2
02
0 brought in a
'new normal'
With the pandemic not yet at an end, we are gearing up to what appears to be a 'new normal' in 2021.
During our regular training engagements with councils this year, we felt the strains of COVID-19 and its effects on 'business as usual' for staff training. In some cases, budgets were reduced and this meant some staff training was put on the back burner for a time.
Quality training delivery meant a re-shaping of our offerings to both alleviate some of the pain in managing councils' training activities and to meet the new reality of stretched training budgets, so that councils are able to achieve more with less.
Convenient
online
training specific to local government
Like many other businesses, 2020 has seen Peak Services innovate quickly to meet the needs of its customers.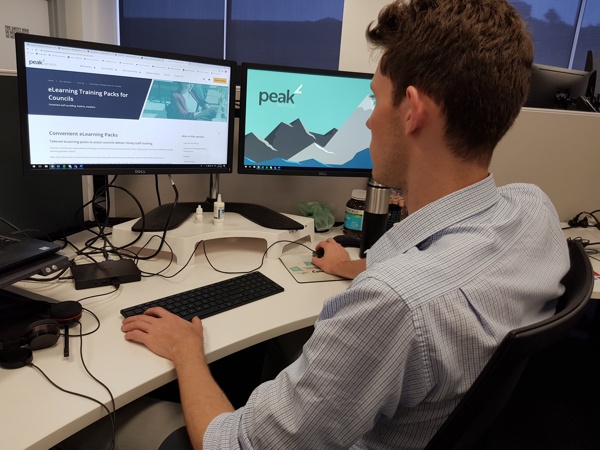 To ensure we could continue to assist councils in the timely upskilling of the people at the centre of their service delivery, we rolled out a number of cost-saving and value-added training opportunities.
We reduced our virtual training course fees during November and December and provided more value to councils by offering 50% off Local Government online courses.
We developed "ready to use" eLearning Packs that encompass key important risk reducing topics such as:
Inductions

Poor Performance

Health and Wellbeing

Injury and Incidents

Work Health and Safety

Hazardous Chemicals

Hazard Guides

Fire and Evacuation
These new offerings take the legwork out of choosing from hundreds of online training courses, creating packs that meet many of the regular needs of councils and simplifying the decision-making process.
The
2021
train
in
g
way
is already here
We have placed a particular focus on online training, given that this convenience is not yet a reality for many councils. eLearning courses are easy to use, informative and include interactivity, quizzes, questions, and scenarios to help embed the learning.
We have already seen many councils adopting our virtual training courses and commending the introduction of electronic materials, which not only reduce costs but also comply with Peak's Environmental Policy.
"Over the last two years Council staff have undertaken a range of online courses that are cost effective and time friendly, providing our employees with convenient and easily accessible training resources that can be completed at a time that is convenient and that suits the employee's environment, from being at their desk or an assigned computer at our depots. During COVID-19 restrictions, with many staff working from home, the ease of distributing the courses meant Council was able to continue delivering relevant training to our staff.

For employees new to Council, the Code of Conduct and Understanding Local Government training has been a valuable resource for those new to Local Government, and forms part of their induction with Council." (Douglas Shire Council)
Our eLearning Packs are ready to go, meaning that councils can roll out training on demand, anytime, anywhere.
As a profit-for-purpose enterprise, wholly owned by LGAQ, we continuously seek feedback from Queensland's councils so we might continue helping you to achieve more.
---
For more information on training contact Patricia Paolini, Business Development Manager – Training on ppaolini@wearepeak.com.au or call 0407 966 716.