The Jacksons are coming home!
By Brian Jackson, Director of Consulting and Technical Advisory Services
In early 2020, our Director of Consulting and Technical Advisory Services, Brian Jackson, took off on a sailing journey with his wife and two sons. Last month, we shared some stories from his adventure and this month he shares some more, as he and his family head back home. Brian is due 'back on deck' at Peak 1 December 2020.
Our WOWY
j
ourney comes to an end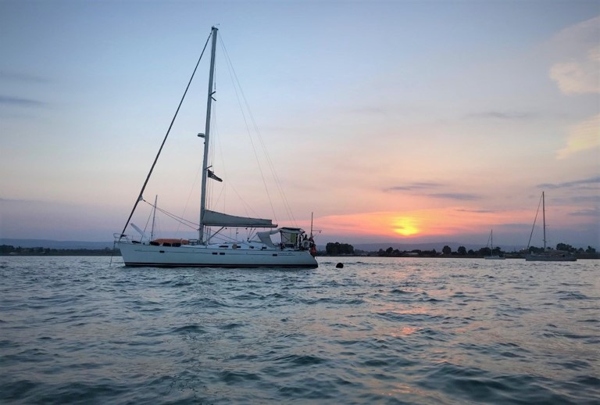 As hour 36 ticks over of a 76-hour trip, we have mixed feelings about this final part of our journey. Our trek home takes us the long way around... the fast way. A three-hour drive, five flights with long transits through Rome, London, Hong Kong and Auckland to deposit us in Brisbane. I guess you could say 'we've been everywhere man' (in 76 hours) and it would take an ambitious sailor and his or her crew more than 76 days to sail from the Mediterranean to Australia. Oh, how air travel really has changed the world!
As I start to write this, we are on route from London to Hong Kong after a night layover. We are many nautical miles above a surface we recently lived on. We are travelling at comparative light speed after what we have experienced in the past nine months.
We see a huge expanse of cloud and deep blue sky through port lights of a different kind. An expanse far reached from our former lives which had us in the company of the huge expanse of ocean and seas and, in some cases, many nautical miles of sea below us. As we look out of our row 75 window, we see the inverse of our former lives – the upside down of what we have experienced. A strange, prophetic irony – a strange aspect of our transition – and a realisation that it is over and new beginnings, of sorts, are ahead of us. Until next time.
A little reflection
We are transforming again, the reverse of what occurred in early 2020. We are undoing what we created, to be left living with the knowledge and experiences of our pandemic year away. We are freed and unplugged again, to plug right back into our former lives and recreate them. We are forever changed, yet at our core the same. We are coming home to a place we have realised we really love; a place we are so very fortunate to call home. And we are excited.
Grab a tea. Lace it with whiskey if you like, or Drambuie. (Of course, only if you're reading this away from work. Don't worry, it's not a long 'put you to sleep' article. One hopes.)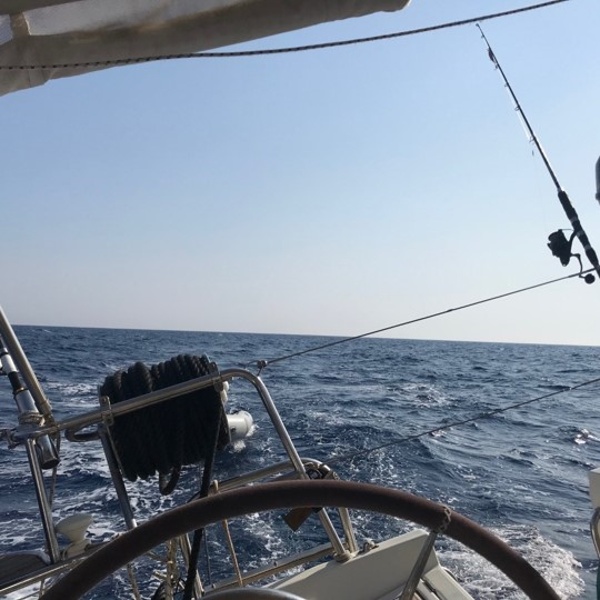 The whiskey lacing reminds me of an old salty sailor's remedy to settle one's nerves. A nightcap for some. It can be frightful out there on the water, rather character building. Change can be un-nerving too.
Speaking of a drink on the water, I never drank alcohol while our pick (anchor) was up, nor before. The best weather forecasts on oceans and close to the coastline can be far from perfect. Though there were a couple of times where a little whiskey lacing a hot drink might have taken away some of the internal tension that was distracting my focus on the knowns, the facts, the exact situation afloat. There is much I have learnt about myself this year about what causes this internal tension. With loved - dearly loved - ones involved, a ship's captain has much responsibility, much to consider. Many backup plans to have in place if the poop hits the fan. I hope this education helps me beyond 2020.
The previous couple of paragraphs might seem a bit leftfield. They are. As I sit here with the night drawing in, in a less than quarter-filled plane, my mind can wander. With a face mask on, and separated from my family to write without disturbing them, I'm looking at a couple wearing hazmat suits across from me, there's an eerie feeling in the air. In the quiet, I can think deeper, comprehend and understand and reflect a little on no longer being a ship's captain. I sincerely hope the experience of this year has the same positive effect on Lisa and our boys it has on me, which was one of the key outcomes we sought from this year. We can delve deeper here another time. Let's lighten it up a little; read on...
Collecting lifelong memories
Overwhelmingly, our time on the water has been glorious, filled with much adventure and exploration, which we will always hold dear. We can share these memories forever and use them to help guide us to be better individuals. We hope our young ones will benefit most.
We went against the status quo and found a way; we pushed through adversity and flexed in the face of change. We come back to a changed world and we are excited for what the future holds.
Here is an insight into the final two months to finish our time away, along with a glimpse of how we managed our trip home. Our second start to finish. Our year away.
Rounding up our sail through Italy
In my last article, I left you with an update up until our passage north from Sicily after crossing through the Messina Strait, a narrow tidal ocean way between mainland Italy and Sicily.
We had visited the Aeolian Islands and were heading due north towards Palinuro, a sheltered bay to the east of the Amalfi Coast region of mainland Italy. From mid-September to mid-October, we had to navigate and plan our passage for unseasonal weather which brought varied conditions that impacted our progress towards the Amalfi Coast, onto the Bay of Naples and back to Sicily.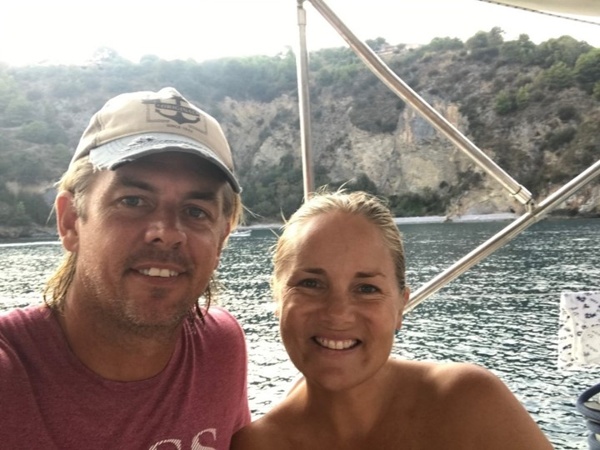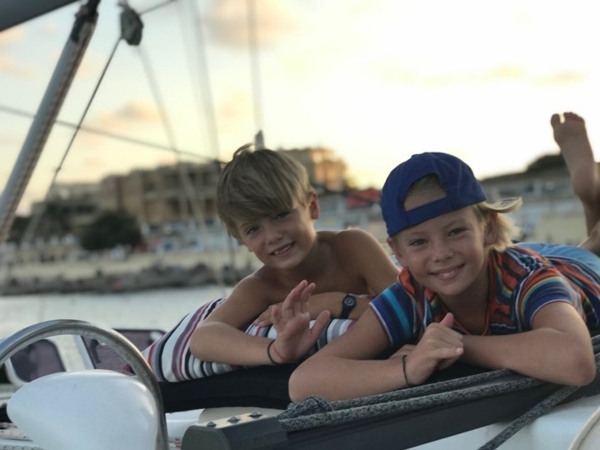 Making way to mainland Italy
Our passage to Palinuro was exhilarating. SV Coastline got her legs going with full canvas out, heeled over and cutting through the swell like she was made to do for a full 13 hours. Consistent wind and beautiful blue sky. We left Lipari Island under sail at 0200 hours and made anchor before night fall. We spent several days tucked away there in an anchorage that was protected from swell and wind, and gave us good, calm conditions at night. We enjoyed the local beach set up with cabanas (beach lounges) and umbrellas, pedal-powered floating water slides and a small local café which prepared great pizza and pasta. We were joined by our cruising friends on SV Sunday.
We made our way further north to Agropoli, where we spent a week sheltered at anchor and tied to the transient town berth during a three-day spell of unfavourable weather and a heavy storm.
Agropoli is a small, authentic Italian town, which we were delighted to have had the winds take us to. Filled with hilly laneways, historic sites, cafes and shops, with all the essentials accessible in a short walk without being spoiled by tourism and crowds. It has a calm and charming character. We walked a lot and needed it: all that pasta and pizza left on the treads of our shoes.
A storm later on in our stay saw some excitement. A squall that was packing 50-60 knot winds ripped a neighboring boat's spinnaker from its furler. With nobody aboard and the harbour marinai (sailors) not sure whether or not to render assistance for fear of liability, I couldn't stand there doing nothing. So with rain pelting and sail flogging, Ol' Salty Axle – a name given to me by our cruising companions earlier in the year – leapt into action accompanied by SV Sunday's captain! With the sail and equipment saved, it was time to debrief the by now rather concerned Lisa and the boys: event debrief an important feature of our time on water. The storm gave the rear cleats holding us to the transient berth a hiding. The storm surge worked around the breakwater, heaving heavily on them with adjusted lines. After torquing the cleat bolts up, they were again well secure. Another boat maintenance job to add to the list for down the track. And our Coastline again kept us safe and comfortable.
Amalfi, Ravello, Positano and Sorrento
From Agropoli, we spent two weeks visiting a number of well know Italian towns, most notably Amalfi, Ravello, Positano and Sorrento. These towns were quite an experience, particularly with the vista provided from anchor. Very memorable. There is too much to write here about what we experienced. Suffice to say, if you get a chance to go to Italy and you have time, try spending several days or more exploring this part of the country while taking care to avoid the tourist traps. I hope to write more later on our time here.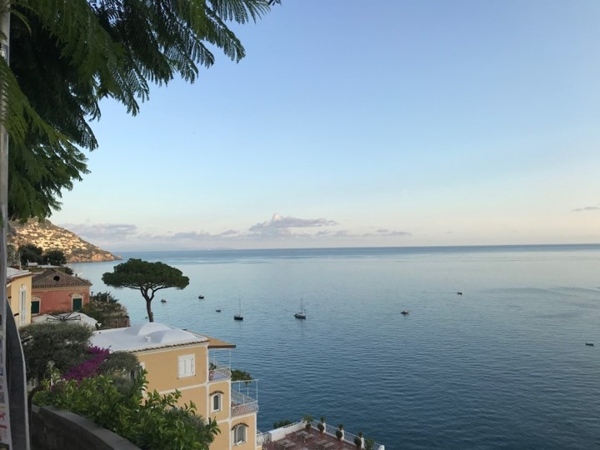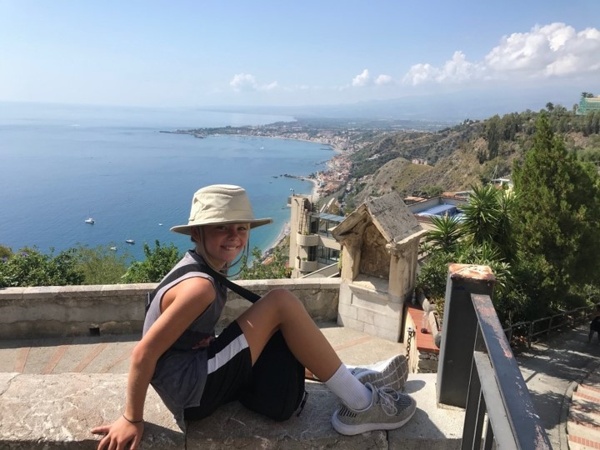 Naples
We headed towards Naples, calling into a marina at Torre del Greco for three days. Located midway between Naples and the historic Pompeii, it allowed easy train access to these locations. In the good company of the folk from SV Sunday, we visited Naples a couple of times by train and walked the streets, finding the best pizza we could lay our hands on... as Naples is the home of pizza! We spent a day at Pompeii, exploring the vast ruins excavated over the past hundred years to gain an appreciation of how incredible a civilisation resided there 2,000 years ago.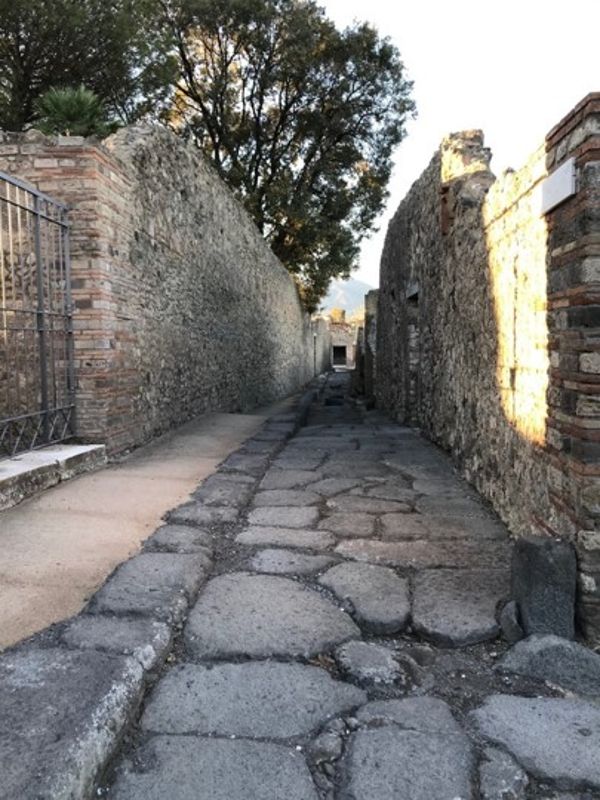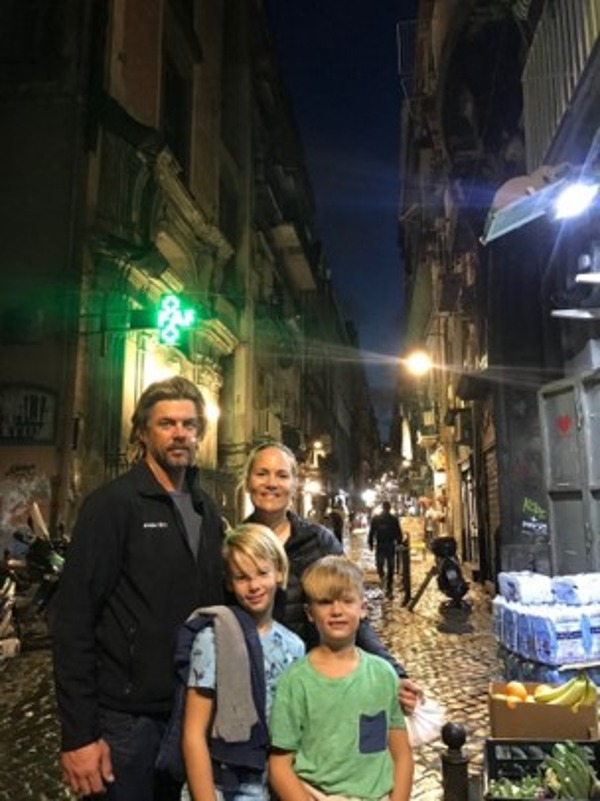 Getting ready to return
home
It was getting towards mid-October and we had crammed a lot into the prior four weeks but we were far from our intended final port of call, miles from the finish line.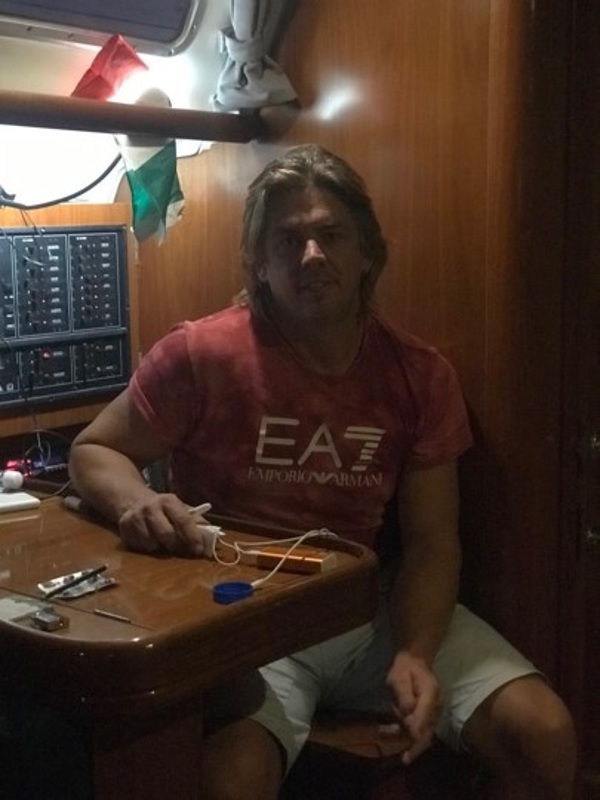 With four weeks left to finalise our year, and a slow resurgence in second wave pandemic conditions across Europe to deal with, we left our cruising friends and made way back south towards our final port on the southern side of Sicily - while concurrently preparing a detailed plan to transition back to Australia.
This included liaising with embassy representatives and our travel agent to secure 'affordable' and reliable flights home, securing storage for Coastline, completing repair and maintenance works and all the jobs necessary to winterise and store her, moving off and culling the belongings we were bringing home.
She was all hands-on deck as they say, all stations go!
Licata, t
he final stop for our beloved
Coastline
With a plan taking shape, we made our way back towards Sicily. We sailed two full days and nights to Milazzo on the north of Sicily and a further three days to Palermo, broken by anchoring at night in protected anchorages.
Those three days sailing to Palermo were long and slow, thanks to persistent westerlies and an unsettled sea. We were happy to arrive in Palermo to enjoy its unique charms, attractions and cuisine for three rest days. Palermo again had all the charm and character of a great Italian city, with many historic sights and local markets.
Our final passage was a two-day, non-stop sail to Licata, completing our circumnavigation of Sicily. On the first day of sailing we landed some 'monster' fish, as our boys put it, the best haul of the year by a mile in the eyes of our young ones. A small swordfish, small yellow fin tuna and several bonito, all catch and release and really exciting for our young fishermen. We'll frame that lure and hang it on our wall as a keepsake.
As the time on passage neared its end, the boat we had trusted so much for nine months didn't miss a beat. She looked after us, as we looked after her and we came to trust her intimately. An incredible partner in our voyage, she was great company, particularly at night, reassuring us that everything on the water was okay. She got us to Licata - her final place to rest in 2020 - at 0500 hours on 20 October.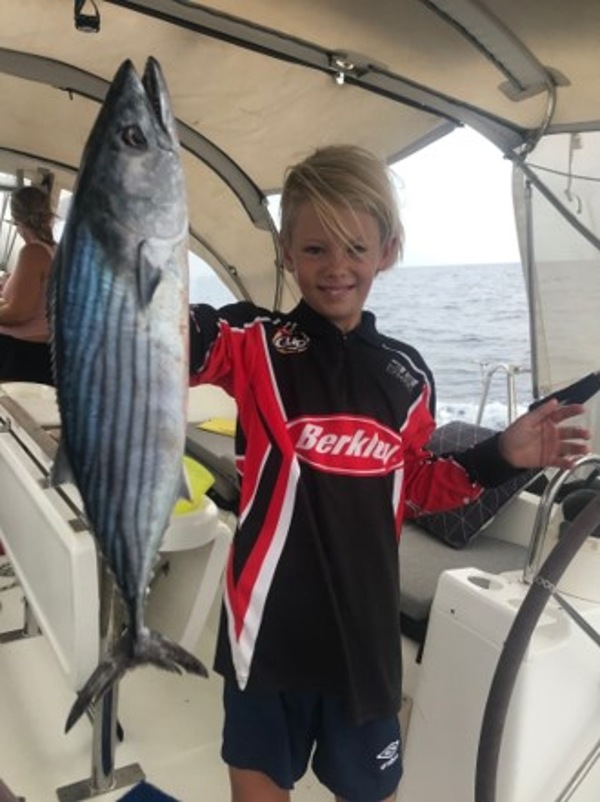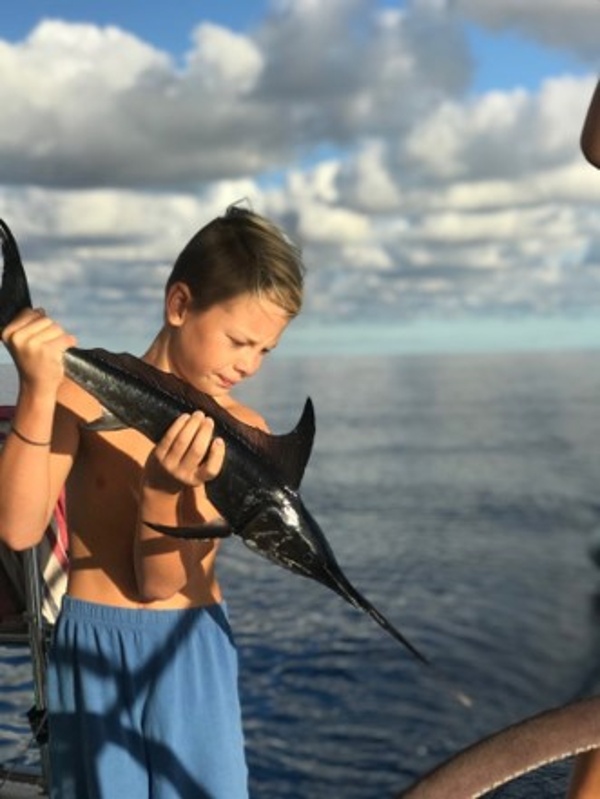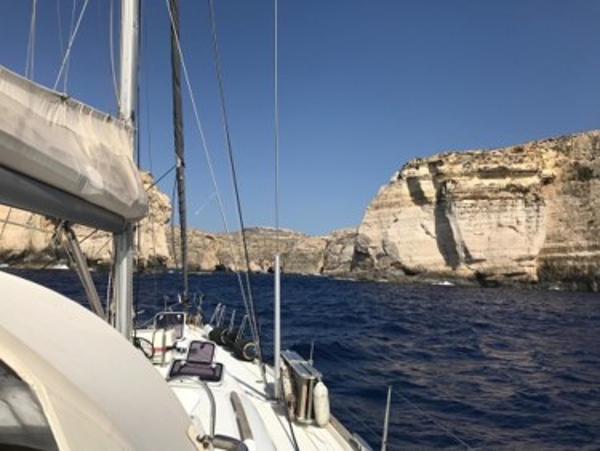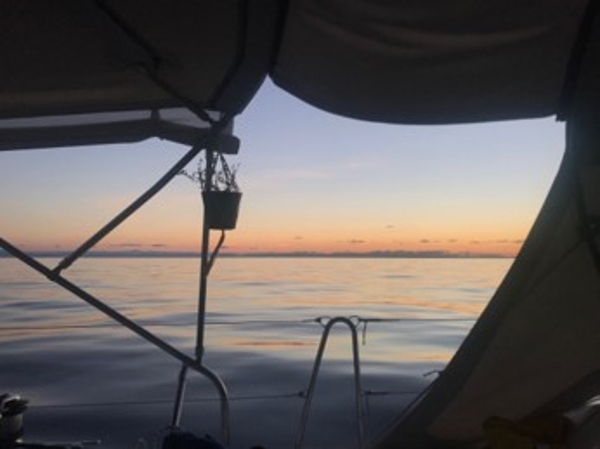 The long
(
air
)
journey home
It's dark outside, 2200 hours Brisbane time on the 15 November 2020. It's a different dark to being on water. We are again miles above the ocean now, approaching the Equator and crossing into the southern hemisphere. After 11 hours at Hong Kong International Airport en route to Auckland, we are almost home without a hitch after four weeks finalising our time away, giving the project manager in me with a wee smile. With only seven hours to get to Auckland, a nine-hour transit before our final flight into Brisbane, we have a sense of accomplishment and excitement that we will be home soon.
We have had many moments this year where we look up with gratitude. I can't help but feel that possibly, just possibly, those who were once with us are now helping us from a place far up in the heavens and out in the universe. So many things worked out fine and seemed to fall our way favorably: our attitude and approach no doubt helped.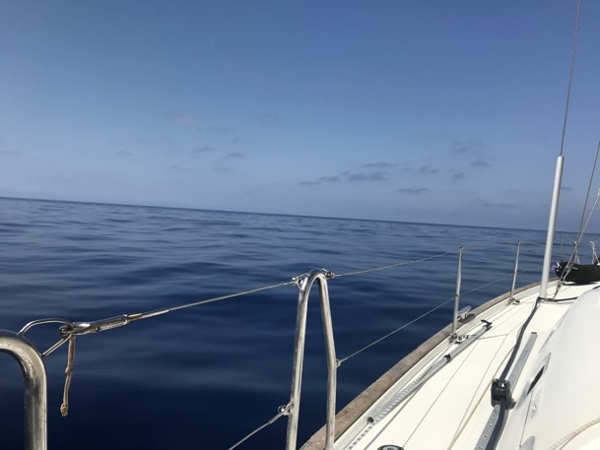 For now, I'll leave writing further about some of these experiences and our final transition home for a future newsletter. We have a 14-day hotel quarantine stay to compete, along with re-establishing life in an incredible part of the world which we haven't yet started to look at back in a place we call home – Queensland, Australia. Australia is a blessed place. A place we are blessed to return to.
Returning to the
'
same yet different
'
I look forward to seeing you soon in my work capacity, and socially where possible. I hope you enjoyed my short narrative and wandering. We may or may not have met before. Time and a willingness to connect gives us that opportunity, and the outcomes must be positive. We all wish for the best outcomes in our interactions, and that is important. If you see me, please come say "G'day".
To round things off, I am happy to say it's been a fantastic final couple of months sailing the coast of Italy's mainland and around Sicily. We got better at it as we went. I might add, we left to come home at the right time: a major second wave of the pandemic was taking hold throughout Europe as we left, with harsh lockdowns starting. We look above in thanks, again, that we got out when we did.
Our dream leaves us to dream again. We were careful to not overlive it and we are at peace with our situation. We have much to look forward to, re-creating our lives in Brisbane. The same yet different. In a different world!