A word from Brent, our Managing Director and CEO
With less than four weeks left until the holidays (not that anyone is counting!) I am happy to share our November highlights, demonstrating more ways in which we are supporting communities across the state.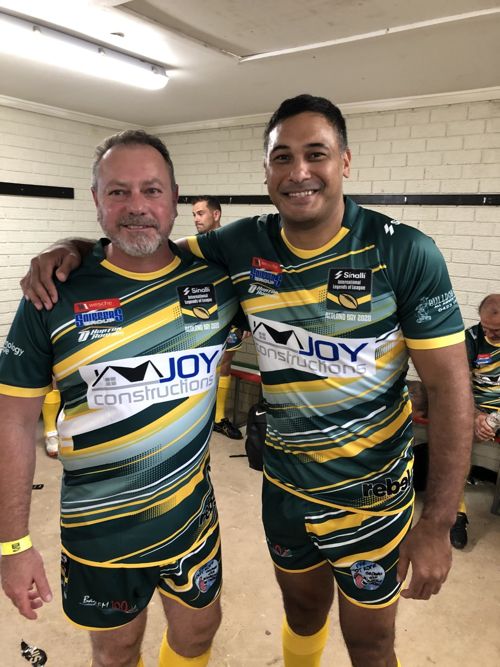 Brent and Justin Hodges at the Redland Thornlands ILOL game
Our recently announced Cairns office will give Peak not just a local presence, but support for our team members who are based in North Queensland as they deliver even greater service to councils in regional areas.
Following the success of the International Legends of League (ILOL) game held in Cherbourg earlier this year, and the benefit this enabled council to provide the community, we have since made a commitment over the next couple of years to support a number of ILOL games held in communities across Queensland.
The main focus of these events is a game of rugby league played between Australian Legends and a local Region & District Allstars Legends team. ILOL players are former State of Origin and Australian representative players with very high public profiles. They use prominent ex-players across the four-day event for greater impact in the community when delivering messages on anti-bullying, social media, and mental health, and also to engage a bigger audience so each community can maximise its income potential.
We consider several factors when we look to support different events and initiatives across the state, such as whether the event will provide a tangible economic uplift for the community and broader region, the social impact (I.e., supporting mental health and providing for livable communities) and that the event or initiative is largely driven by council, as our purpose is to support local government. We see this as a great way we continue to demonstrate our commitment towards councils and our communities.
The last game was played in Thornlands, part of Redland City Council, on the 7 November and it was great to see the community so involved and enjoying the event. With the upcoming game scheduled for 6 February in Blackwater, we're excited to see our community sponsorship bringing these games to Queensland, providing economic and social benefits to the Central Highlands and Woorabinda communities.
On another note, we are happy to welcome back our Director of Consulting and Technical Advisory Services, Brian Jackson, as he returns to work this week after a sabbatical year sailing in the northern hemisphere with his family. Make sure you read about his many adventures in this newsletter.
This will be the last News from Peak for 2020 as we head into Christmas and wrap up the year – we will kick off again in the new year with lots of useful updates and stories to share.
2020 has been a big year and our team has done an incredible job, working with all of you and navigating the challenges that have evolved over the course of the year. I look forward to catching up with you in 2021, which promises to be an even bigger year, let's hope for all the right reasons!
See you out there.
Brent