A professional approach to service delivery and project completion with limited resources
Feature article written by Mark Crawley, CEO Carpentaria Shire Council
Carpentaria Shire Council is a very remote Council located in the southern part of the Gulf of Carpentaria where the Outback meets the Sea ®.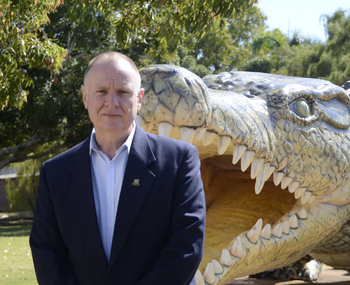 We are a Council servicing nearly 2,000 residents across a vast and diverse area of 64,381 square kilometres of Delta Wetlands, Salt Plains, and good quality agricultural land for grazing and growing cattle. Six major rivers run through the Shire which all drain to the Gulf of Carpentaria to the northeast and account for a discharge of around 18.3% of Queensland's, and 7.3% of Australia's, surface water.
We have a road network consisting of 1,662.19km (1,554.52 km unsealed) and undertake maintenance on a further 574.52km of the State Road network (273.02 km unsealed) on behalf of the Department of Transport and Main Roads (TMR).
Our economy's main industries are small local businesses, fishing, and aquaculture, agriculture (mostly beef), and tourism. Locals in our part of the world have become used to isolation and dealing with prolonged periods of loss of power. If you move to the Gulf, you're encouraged to bring a generator, and if locating to Karumba, be prepared to be isolated for up to two weeks at a time during the storm season.
Council provides all the usual local government services now provided by local governments in the 2020's as well as some extras. Like many remote Councils, we became the provider of 'last resort' such as delivering childcare services, satellite television rebroadcasting, and housing to name a few.
Our workforce consists of just over 100 FTE with the greater proportion being our open space employees. We undertake and complete our DRFA works with support from locally sourced labour hire and the engagement of local contractors, supplying scrapers, dozers, graders, water tanks, and semi tippers, as required. This is frequent at our end of the country due to cyclones and other natural disasters occurring regularly.
Like many remote Councils, we lost track of a lot of the projects that have been proposed in one form or another over the years due to the changing of critical staff and some of our elected members. So, we set about getting all the information into one specific location. Engaging the consultation services of Peak Services to work with the Executive Leadership Team to develop the Project Assurance Matrix to assist Council to ensure projects remain on track, within acceptable tolerances, and align with stakeholder expectations.
We wanted to be best placed to align projects already on our books with funding opportunities.
Local Governments in Queensland have been provided with a funding program known as Works for Queensland (W4Q), which is untied and paid to local government to address infrastructure needs. At Carpentaria Shire we have been utilising these funds to concentrate on upgrading and renewing our aging infrastructure, thus adding to the useful life of our assets, and reducing our depreciation expense. This program commenced in the 2016-2017 financial year with $200 million provided to 65 Councils outside the South-East corner of the state.
To get the economy moving again during COVID the Commonwealth Government introduced the Local Roads and Community Infrastructure Program (LRCIP) to provide necessary economic stimulus locally through job creation. Now in its third phase, it is like the Roads to Recovery funding program and has been very well received by local governments right across the nation. LRCIP is a program that we hope will continue for many years. It, like W4Q, has provided Council with direct funding that can be used to fix the infrastructure backlog and assist in improving our aging assets, and provide some new projects that are not likely to be started with our own source revenues.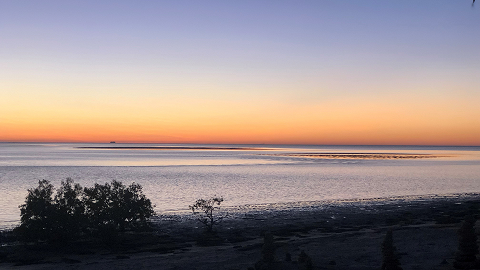 With all this extra stimulus, we realised we had to be able to manage the current service delivery and ensure projects are completed on time and within the budgets allocated. Some of the projects have assisted with job creation and economic stimulus as they were meant to do. Contractors have been engaged where necessary and projects completed to deliver new and upgraded infrastructure within our communities.
Without this funding directly to local government many of the projects would not have been undertaken for many years to come if relying on own source revenue.
The only way we were going to be best placed to manage and deliver all the projects was to adopt a more professional approach to managing the growing list of projects and the additional stimulus money provided through the programs by the State and Commonwealth Governments.
We sought pre-qualification status to undertake works on behalf of TMR by completing ISO45001:2018 Workplace Health and Safety, ISO 14001:2015 (Environmental), and ISO 9001:2015 (Quality). Council is now one of only eight in Queensland with this pre-qualification. Council went on to become certified by the Australian Government under the Federal Building and Construction WHS Accreditation Scheme, one of very few Councils in Queensland to receive such certification.
I mentioned that Carpentaria Shire is in the Gulf of Carpentaria, and we are the Outback by the Sea® so that would indicate that we also have a coastline, yeah, some 370 kilometres of it."
Whilst we have a strong history of being road builders, with the capability and capacity to provide a quality product, we have not always looked after our coastline as we could have, and I guess this is a result of not being well resourced nor having staff with the relevant expertise to best manage a coastal environment.
This has now become a must do and a bit of a priority for the Council in the past 12-18 months.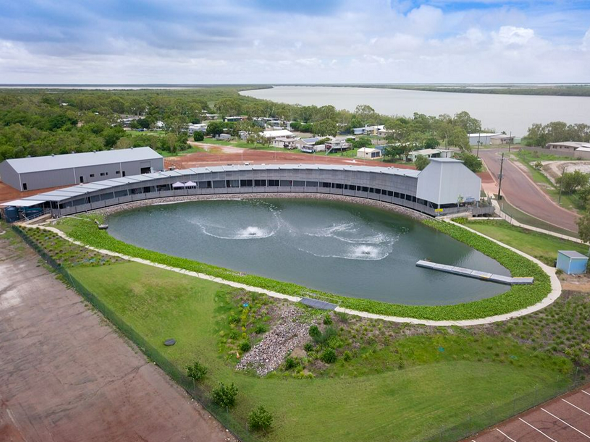 Council received funding to undertake a Coastal Hazard Adaptation Strategy through the engagement of consultants. We would not have been able to undertake and complete this works without the support of the grant funding.
This new Strategy provides Council with the recommendations to be able to best protect and manage the foreshore for our community into the future, including managing and planning for the foreshore protection in the long term. This Strategy has assisted Council in being able to leverage additional funding to complete other detailed designs and gain the necessary approvals and lodgement of other applications for funding for infrastructure through other grant programs currently available.
By identifying that we don't have the expertise and resources locally for all the works we need to undertake, and engage with consultants as required, Council has managed to be better placed to adequately plan and create the necessary infrastructure (grant funds pending) ensuing a more professional approach to deliver the identified projects for the foreshore and adopting a similar approach for our other capital projects.
An under-resourced Council with a proud history of delivering services over many years (in 2023 the community celebrates its 150th birthday), we have now identified that through engaging with others to assist in providing a professional approach to project and program delivery, including upskilling of our staff to continue with a more professional approach from concept, through design and grant application and management to project and contract management, we will ensure that approach for many years to come, done locally.