A word from our Managing Director and CEO, Brent Reeman
It is that time of the year again and we are about to kick off nominations for this year's annual Bush Councils Butch Lenton Memorial Award. When reflecting on why this award is so important, not only is this celebrating the legacy of Graeme 'Butch' Lenton, the previous Mayor of Winton Shire Council, but it is celebrating the amazing achievements of our remote and regional councils who are constantly doing more with less.
When you take this and overlay it with COVID, the pressure on our rural and remote communities is further compounded. Like many of our border communities, Goondiwindi knew all too well about this when faced with the additional pressures of managing the QLD/NSW border in challenging conditions.
When talking to Carl Manton, CEO Goondiwindi Regional Council on last year's win he said "the fact that all of the organisation was able to celebrate the success of this award and council (was) recognised as a whole for this achievement, (it) is fantastic recognition of a great team".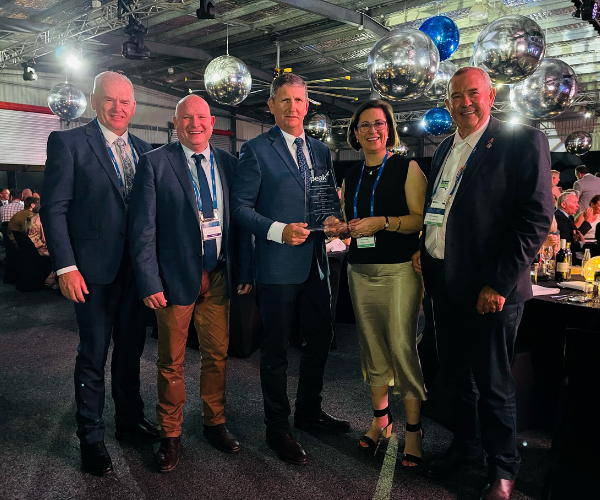 "Our workforce is incredibly humble and for our people to be recognised, it is very encouraging and highlights the good things we do in our day-to-day operations. We must be innovative to find efficient and effective ways of delivering services for our community, often this is overlooked and not celebrated enough".
"With our win, and the $10,000 bursary that came with it, we have managed to roll out 6 additional e-padlocks across the shire with a further 6 units on backorder due to current supplychain issues. With the borders re-opened for interstate travel earlier this year, the e-padlocks have been, and will continue to be, deployed to Council's water treatment and filtration plants, reservoirs and water towers across the region where there is a requirement for multiple staff and contractors to access the facilities unassisted and a record of access is required.
At a cost of approximately $500 per unit, Council will use the remainder of the bursary to purchase additional e-padlocks to hold in stock in the event of failures or vandalism or should a new application for the technology arise. Council is also currently investigating the benefits of further expanding the practicability of utilizing the e-Padlocks at Stores Depots and Waster Transfer Stations across the shire".
What is even more pleasing, as a direct result of receiving the Butch Lenton award, Council officers report that they have been contacted by a number of other Councils, seeking more information on how e-Padlocks may benefit their own organisations.
Carl encourages every Bush Council to submit an application because it's an easy and straightforward process.
"Throughout the year there are a myriad of great things delivered by councils, pick one that you're proud of and nominate - even better if you can pick one that can be used by other local governments. The process is very simple and straight forward which is great for councils that don't have the resources to write huge award submissions."
Both Goondiwindi Regional Council and South Burnett Regional Council will be showcasing their projects at the upcoming Bush Council Convention being held 26-28 July 2022 in Barcaldine.
Nominations for this year's Butch Lenton Award open in a couple of weeks on the 1st of July and nominations will close on 31st August, in time for judging to commence. The award will be presented at the Gala dinner at the 2022 LGAQ Annual Conference being held in Cairns this year. So have a think about some of the great work being achieved in your council and get your nomination in.
We are about to head into a busy time with several upcoming events, I look forward to seeing many of you at LGAQ Civic Leaders Forum in a couple of weeks or at the LGAQ Bush Council Convention later in July.
See you out there
Brent