Interview with an Outback CEO
David is coming up on his second anniversary at Cloncurry Shire, a northwest Queensland local government area covering almost 48,000 km² and with a population in excess of 3,000.
What attracted you to apply for an executive role in Local Government?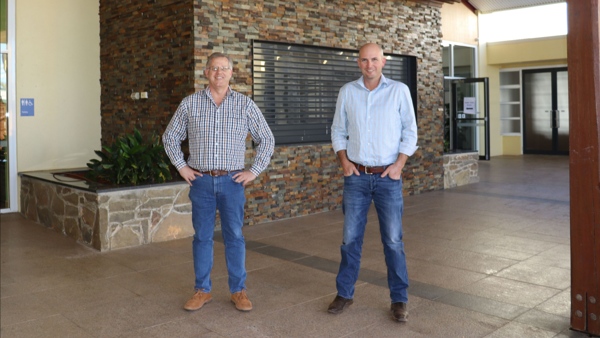 An executive role in Local Government requires you to manage a broad range of portfolios and complexities. The fact that I have worked in a broad range of organisations (defence, farming, law, engineering/construction, facility management, resources and energy industries) has equipped me with the necessary skills and experience to understand the complex local government environment.
Now that you've been in the role for a while, what do you find to be the most exciting challenges?
To be able to apply your skills and experience – and actually see the improvements in governance, service delivery and the culture generally – and lastly how these improvements make a difference in the community.
How have you and your family found living in an Outback location?
I grew up on a property, so my family is very accustomed to living in a remote area. There are always heaps of opportunities for spouses/partners to also find good employment opportunities. My wife is a teacher at Cloncurry State School, my daughters are at university but both love visiting Cloncurry with its busy event calendar (be it the show, rodeos, festivals, etc).
Why would you recommend working for a rural council to a potential candidate?
I find the communities in rural areas to be the salt of the earth and it is a privilege to live and work so close to nature. You find the most fascinating stories, and each rural town has it its own rich history – nothing artificial, all authentic!
Because rural towns are often lacking resources, rural communities have to be innovative to survive – you can see these innovative ideas in Cloncurry being the birthplace of the Royal Flying Doctor, the first Qantas flights, one of the largest helicopter mustering industries in the world and Australia's only drone testing facility, to mention a few.
We have also implemented an innovation platform for council to capture and deliver innovative ideas from staff and the community (and I believe Cloncurry is the first council in Queensland with an innovation platform).
Have you had the opportunity to explore the region and all it has to offer?
Not as much as I would have loved to – between the unprecedented flood event of 2019 and Covid-19 – but the region certainly has a lot to offer. The natural landscape in Cloncurry is very captivating, with red earth, beautiful watering spots and places to visit like Clem Walton Park, Mary Kathleen Mine and Chinaman Creek Dam. I also enjoy visiting Dajarra when we have meetings down there, it is a neat little community. I have also enjoyed being part of the Cloncurry RSL and commemorative events associated with it. There is a real sense of community and friendliness in Cloncurry and the Northwest and I look forward to exploring it further.
David was recruited to Cloncurry Shire Council in September in 2018, bringing comprehensive experience in project, contract and general management to the role. His broad practical experience, including registration as Legal Practitioner (MQLS), Practising Project Director (CPPD), Master Project Manager (MPM) and Graduate Company Director (GAICD), enables him to see the overall picture, identify problems and provide logical and effective solutions, an experience which has served him well in a complex local government environment with a number of significant ongoing projects.
---
If you would like to discuss anything recruitment related please contact Celia Jones on 0409 119 561 or Rona Horsfall on 0438 943 854.