Renewable Energy Savings Flow from Thargo Cool Change
Author Peak Services and Bulloo Shire Council
Bulloo Shire Council has never been prouder to call itself 'the Greenest Shire in the West'.
Back in 1891, Thargomindah – in the Channel Country of outback Queensland, around 1,000 kilometres west of Brisbane – became the first town in Australia, and just the third in the world, to produce hydro-electric power for street lighting by using the water pressure from the Artesian Basin.
London, Paris… Thargomindah? It has a certain ring to it!
Continuing its legacy as a 'green' council, Bulloo Shire has made significant investments in renewable energy, including a new Water Cooling Project that is set to deliver long-term financial and social benefits, all while reducing risk to Council and the community.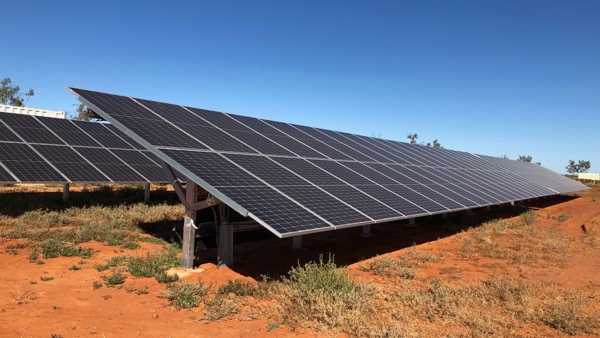 The Water Cooling Project has a further 240KW of solar generation capacity, supported by 586KWh of battery storage, providing 557KW of solar power across the shire – enough to power approximately 84 households and offset approximately 830 tonnes of CO2 per year.In 2020, Council commissioned solar installations across 23 council facilities, 317kW of solar has been installed across 22 council facilities to reduce and in most cases completely negate reliance on grid power during daytime.
These works were made possible through a 60 per cent contribution from the Queensland Government of $3.66 million from the 2017-19 Local Government Grants and Subsidies Program.
The reality of living with extreme temperatures ranging from zero to 50 degrees means Thargomindah's locals have learnt from early times to adapt to the extremes of this harsh environment and grasp any opportunity to make their lives a little easier.
Council has a challenge similar to many regional and/or remote councils: its communities rely on water supply from bores and, while the water quality is potable, without treatment the water temperature puts it well beyond an 'acceptable level of service' when it comes out of the tap.
For many years, Council has relied on a system of cooling towers and ponds, which has struggled through hot summers, to reduce the water to still unsatisfactory temperatures of around 55 degrees Celsius. That is roughly equivalent to the temperature of a hot shower – and far from refreshing when it is over 40 degrees outside.
This cooling process costs Council in excess of $70,000 each year in electricity alone and, with much of the infrastructure nearing the end of its useful life, mounting maintenance and renewal costs have necessitated the fast-tracking of a better solution.
"This type of project will create some comfort for local residents on a day-to-day basis, by not having to live with hot water coming from kitchen taps whilst at the same time providing an enjoyable experience for tourists – who may not understand why the cold water tap only has hot water."

John (Tractor) Ferguson, Mayor of Bulloo Shire
The last couple of years have seen council investigate numerous options to identify and evaluate the financial, technical, environmental and social benefits of a possible long term sustainable solution for the community. Working in close partnership with Queensland's Department of State Development, Infrastructure, Local Government and Planning, it was determined that the option that would provide the best overall outcome would be using renewable energy to cool the town's water supply.
Bulloo Shire CEO, Lew Rojahn said the water cooling exercise became a better option for council when a proposed geothermal electricity generation project became impractical due to insufficient heat in the bore water to make the process economical.
"We then considered going full solar with a major solar farm installation to generate electricity. However, this proved difficult for Ergon to understand the impact of so much power entering the grid at the extreme end of the mains," Mr Rojahn said.
"So, we thought long and hard about why we were doing this and went from generating electricity from heat to improving our lifestyle by cooling the bore water. This will now provide a huge benefit to our residents and visitors, for example, being able to have a shower in cool water in summer for starters."
"The Palaszczuk Government is committed to working with every council to improve liveability throughout the state. We firmly believe that our local governments are best-placed to understand the specific needs of their communities. This was a strong consideration when assessing Bulloo Shire's application for the Thargomindah Whole Town Renewable Energy Solution project. The Local Government Grants and Subsidies Program is a funding program that supports local governments to deliver priority infrastructure and essential services that meet the identified needs of their communities. This project ticked all the boxes, and the Palaszczuk Government was proud to contribute $3.66 million to assist the council to deliver this fantastic outcome for the community."

Steven Miles MP, Local Government Minister and Deputy Premier of Queensland
The preferred project harnesses the efficiency of heat exchangers and cooling towers to reduce the bore water temperature from 72 degrees to a much more acceptable 35 degrees Celsius at a variable rate up to 30 l/s. The cooled water is stored in three 500KL water storage tanks and multiple variable speed pumps work to meet community demand for up to 45 l/s at a constant pressure to meet peak demands.
The project is powered by renewable energy, reducing the risk of grid supply issues that are all too common in remote locations, significantly reducing operating costs, with the addition of associated environmental benefits. The 240kW solar power plant is designed to power all system components during the day, with sufficient capacity to charge the 583kWh battery storage for uninterrupted operation during night and periods of low solar insolation. The renewable energy capacity is sufficient to cool, treat and deliver to the community up to 1.5ML of potable water per day on demand.
The system is managed though a 'water management system' that constantly monitors and adjusts performance to optimise its use of renewable energy and maximise its battery and water storage levels. Through remote access, Council can monitor and control the system and respond to alarms and alerts 24 hours a day. The system includes failsafe and shutoff mechanisms to mitigate any potential flooding, power failure of loss or water supply issues, so that Council has peace of mind that its community and important assets are safe.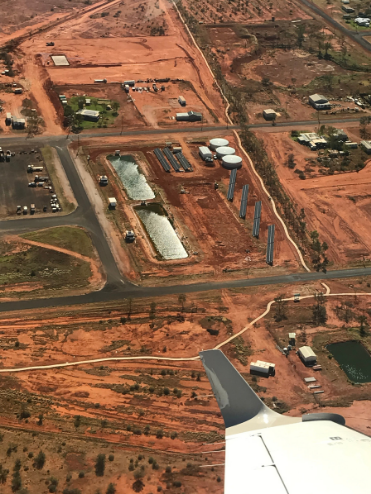 Delivering the project in a challenging environment
Selecting the best option to deliver this work included a significant focus on risk reduction and management. Extensive supplier engagement and feasibility assessment was undertaken to understand and consider risks such as whether the technology is proven and readily available, the cost of maintenance and operations, availability of spares, reliability and redundancy and the opportunity for local supplier and resource involvement in its construction and maintenance.
The effort invested in the tender documentation, evaluation process and resulting contractor selection supported a streamlined delivery program. Local resources were engaged to supply and support the main contractor in construction for a significant proportion of the project. This not only supported the local economy but also bolsters local knowledge for future maintenance.
Despite delivery being challenged by the impacts of COVID-related border restrictions and lockdowns on suppliers, the project was commissioned under budget and with minimal delays.
"The success of the project is largely driven by adhering to the principles of good project management and taking a staged approach. The contract has been delivered under budget and, notwithstanding the effects of COVID, largely on program. All of the early work to define the performance objectives of the project, the risks and benefits of numerous options, and then optimising the design, has paid dividends."

Paul Renals, Project Manager Peak Services.
Commissioning, outcomes and realised benefits to the community of Thargomindah
Commissioning was governed by the requirements to prove a strict set of performance guarantees and undertake a program of tests.
The project has delivered an outstanding result for the community and is now delivering a constant supply of cooled water to the people of Thargomindah. The technology has been selected to include low cost and minimal maintenance requirements. The capital cost of $2.8 million, offset by significant reductions in power use, income from power exports and credits combined with reduced operational and maintenance costs, will provide a healthy return on investment for future generations.
"There's no doubt that this project will be enormously beneficial for the people of Thargomindah well into the future."

Steven Miles MP, Local Government Minister and Deputy Premier of Queensland
The savings for Council are significant, with combined annual electricity savings across the 23 facilities to surpass $160,000 the Water Cooling Project alone will save council $79,000 per annum. Council will also benefit from export of electricity and large-scale certificate offsets that further reduce overall energy bills to the Shire and, just as significantly, the water cooling system reduces the cost of annual maintenance and renewal of ageing infrastructure that previously provided only nominal cooling.
Both the Council and Queensland Government recognised the project as critical to enabling Council to provide better levels of service to its community whilst supporting environmental and economic benefits.
"The Bulloo Shire Council has done a fantastic job of delivering this project for the community, which has been made possible through the LGGSP. Queensland is incredibly vast, and as a result, remote communities such as Thargomindah face challenges that those living in the larger cities along the coastline would never have experienced," Mr Miles said.
"Dealing with extreme conditions as well as enormous distance from additional resources and assistance means that quite often, initiative can be a council's greatest asset. The Bulloo Shire Council has met the challenges of ongoing hot water with heat exchangers, and inconsistent power supply with solar installations, resulting in an outcome of increased liveability and a large degree of self-sufficiency moving forward.
"In doing so, the council has also reduced its carbon footprint as well as minimising its own power costs. It's an enormous win for both the ratepayers and the environment. Certainly, this type of result will be noted by other councils that may be facing similar challenges with water heat or power outages.
"Councils can apply for funding for similar projects through grants programs such as the Queensland Government's $1 billion Works for Queensland program, aimed at supporting regional councils to undertake job-creating maintenance and minor infrastructure projects," Mr Miles said.