A word from Brent, our Managing Director and CEO
It has been an exciting couple of months in terms of our engagement across the organisation, like councils we have had so much going on and the end of the year is approaching at a rapid rate of knots, almost faster than Rex, my 1971 40 Series LandCruiser.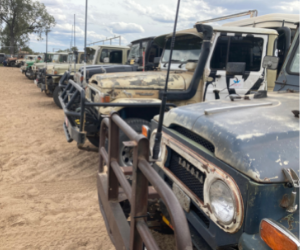 What is on everyone's mind is, was it another great success? Yep, I'm talking about the 2021 Long Drive for Drought that Jess and I just returned from. It was so great to get out on the road, get out of the city and away from the daily COVID updates especially. The conversation changed over the last couple of weeks, we were talking about drought again and I like to think we managed to shine a light back on this important issue that is still impacting many of our communities.
With almost 65% of Queensland still in drought, this event couldn't have come at a better time. I must admit, leading up to it we were all getting a little worried, 'will we or won't we...' But we grabbed that window whilst we could, not only due to how much planning goes into this, but more importantly just how critical it is to get the focus back on this issue. The other thing plaguing the back of our minds was just how much the communities were looking forward to seeing us. So many events had been cancelled over the last few months; important regional events that have significant social and economic impacts. How lucky were we to proceed, and proceed we did with a convoy of almost 30 vehicles (we lost a few from over the border), support from amazing sponsors and most notably the incredible support from the local communities and councils we worked with to make this event such a success.
Organisations such as Drought Angels, our charity partner, rely heavily on donations and unfortunately the reality is that COVID is having an impact in terms of how much is being donated. Ultimately this impacts the work the folks at Drought Angels can do for our farming communities that are doing it tough. Yes, there has been some rain, but it has been patchy and nowhere near enough - this was very visible during our journey.
3,000 kms, many of these on the dirt getting off the beaten track, travelling stock routes and visiting some of the farms that have been supported by the Drought Angels team over the years.
It doesn't get any more real than this, having boots on the ground talking to those most in need and seeing it for ourselves.
There were many emotional moments, hearing how one farmer with 14,000 acres and only 25 head of cattle still was struggling to feed them.
The problem is tenfold with the current price of stock seeing record highs. In many ways this is great for farming communities to be receiving these prices, however for others it makes it even harder to buy stock when they do start having feed on the ground. It is a long slow process to rebuild.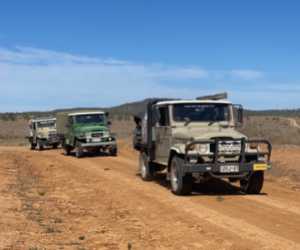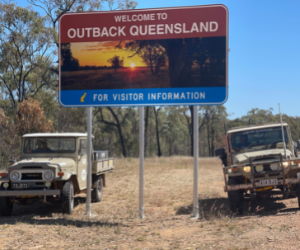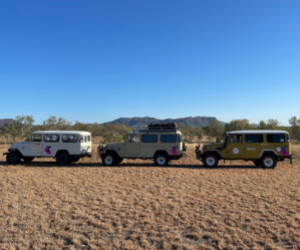 For every dollar that Drought Angels helps a farmer with, generally this has a multiplier effect of up to 7 times this amount running through the community.
The great thing about what they do in terms of supporting local economic development, whether it be via food vouchers, feed, paying bills etc, they tailor the support to the needs of the individual circumstances and in turn are creating another economy.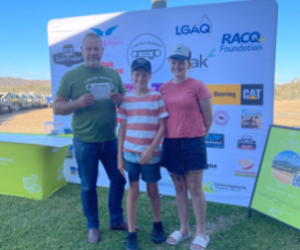 Mostly, what resonated more than anything when talking to those we came across, was how much they appreciated the fact that a bunch of people still care greatly. The spirit and generosity of the people in regional and remote communities was humbling, they are the ones that tend to give the most.
The tone was set at the very start with a generous donation by Somerset Regional Council, along with coffee and cookies for the crew to send us on our way. From the bakery in Mundubbera donating the rolls for our BBQ and blueberries from the local farm, to those amazing school kids at Springsure taking it upon themselves to raise $127.10 to contribute to the cause. Contributions from councils along the way both financial and in-kind support whether it be accommodation at the local sporting facilities, the roast put on by Central Highlands Deputy Mayor Christine Rolfe and the Springsure Gun Club, along with the significant donation made by council and community. The publican at the Wellshot in Ilfracombe (our very own Longreach Clr Tracey Hatch) outbidding everyone on a bottle of rum donated by Telstra and our crazy crew who paid $1,100 for a chook that didn't win at the chook races in Tambo. The incredible events and community spirit continued to the very end with a great wrap-up by Western Downs Regional Council in Chinchilla – where a Hastings Deering Caterpillar Model went for a whopping $550.
So many great stories to tell, an event we will be reflecting and reminiscing on for many years to come.
So many "remember when" moments. So many laughs shared. Already, people are asking about next year, where are we going next.
So, how much did we raise? We are working on the final tally and will announce this at the LGAQ Annual Conference in Mackay however I can share with you all that we appear to be very close to our $80,000 target.
To the crew, sponsors, councils, communities, media and everyone involved with making this event what it is – all I can say is 'thank you'. Also a big 'thank you' to Peak for its ongoing support of this event and all of our staff who help make it happen, particularly Jess - I couldn't do it without her.
And lastly, most importantly 'thank you' to our farmers.