Bluetooth 'e-padlocks' unlock border road closures – and an innovation award
Clever use of Bluetooth technology to overcome COVID-related border road closures has been recognised with a highly sought-after innovation prize.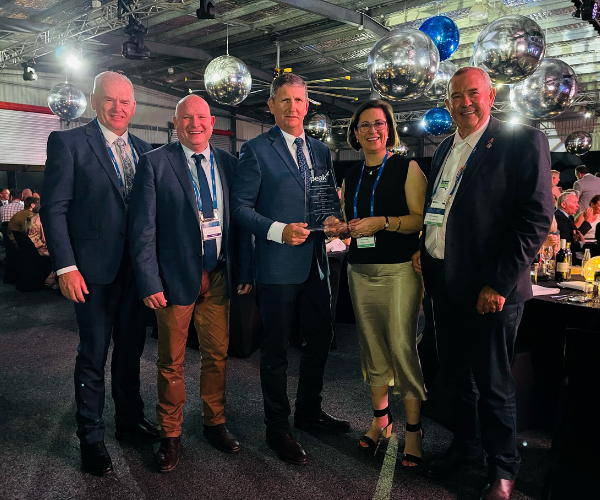 Goondiwindi Regional Council last night received the $10,000 Butch Lenton Bush Council Innovation Award for its 'e-padlock' trial, which has enabled residents to cross the Queensland/NSW border for essential reasons – including going to work, getting kids to school, and even shearing sheep!
With many of the region's farming properties spanning the Dumaresq River, farmers effectively own and work agricultural land in both Queensland and NSW, so when borders closed, some were forced to drive vehicles and equipment hundreds of kilometres to approved border checkpoints.
Goondiwindi Mayor, the Honourable Councillor Lawrence Springborg AM, said restrictions had seen the closure of many access points along the region's 460-kilometre stretch of border.
"We are extremely proud to have become the first council to pioneer this new border control technology, in close partnership with the Queensland Police Service, to try to make things just that bit easier for residents and businesses whose daily lives had been disrupted by the border restrictions," Cr Springborg said.
"I think it's difficult for people outside of cross-border communities to understand how connected and inter-reliant we are – from grocery shopping to accessing schools and medical services. Our own council office is directly opposite the border, overlooking the Macintyre River that forms the division between Queensland and New South Wales."
Working with local police, and in consultation with the Premier and Chief Health Officer, Council implemented a trial with specifically selected participants to use Bluetooth padlocks that are programmed to be unlocked by a smartphone app. The padlocks are activated and administered by a software platform and remotely monitored by motion-activated cameras to support e-padlock activity data.
The Butch Lenton Award is a $10,000 bursary created by Peak Services to honour the memory of the late Mayor of Winton Shire, Graham Butch Lenton, who was a champion of innovation in rural and remote councils. Councillor Springborg reflected on his own experience with Mr Lenton.
"I not only had the great privilege of meeting Butch Lenton, but also of understanding the profoundly positive impact that his legacy has had on his community as well as local government in Queensland."
Goondiwindi Regional Council was chosen unanimously by award judges for the "clever but simple solution to a problem with the use of the Bluetooth 'e-padlock' innovation allowing people's lives and businesses to carry on through COVID border closures".
Judging panel member Cr John Wharton, Mayor of Richmond Shire Council said, "the judges believed the Goondiwindi Region's nomination was a standout, keeping community lives simple and really lived up to the spirit of the award.
"This innovative solution by the council is transferrable for many different uses across many regions and organisations."
Council will use the funds to find further uses of the e-padlocks on community buildings, assets and infrastructure, including depots, water treatment plants, reservoirs, transfer stations and water towers throughout the 19,000 km² region.