The Long Drive is over and, boy, was it worth it!
Driving for drought and so much more
It started as a small idea, born of my passion for the bush and wanting to make sure that Western Queensland's drought-stricken communities weren't forgotten while the COVID-19 pandemic steamrolled across our world.
2,500 kilometres later, A Long Drive for the Drought has turned into a significant fundraising event. Our goal was to bring in $40,000 to support Drought Angels, an amazing charity supporting Aussie farmers. The result, to date, is more than $47,000 raised – surpassing all our expectations!
Over eight nights, we pushed a convoy of iconic 40 Series Land Cruisers through 18 outback towns. From Brisbane to Texas, out to Dirranbandi and Cunnamulla, up to Augathella and Tambo, back round to Charleville, then east through Yuleba and Chinchilla - sticking to back roads where we could.
Everywhere we went, the spirit and generosity of the bush were out in force. We had fuel stations donating petrol for the entire convoy, a caravan park re-gifting our camp fees and local mechanics refusing payment to keep us on the road.
Countless local businesses chipped in along the way – we had chicken races at the Tambo pub, sweet treats from the Dirranbandi bakery and who'd have imagined raising $1000 from yabby races in Charleville?!? Thanks Mayor "Zorro" for a great night.
On our first day, kindly kicked off by Scenic Rim Mayor Greg Christensen, we were lucky to be joined by the great team from Channel 7's popular outdoor lifestyle program, Creek to Coast. The TV show's interest gave us an incredible opportunity to raise broader awareness of the cause. It also helped us secure several amazing sponsors, including LGAQ's Peak Services, Proterra Group, Caltex and Reali Supply. We are extremely grateful for their support, which was crucial to the inaugural event's success.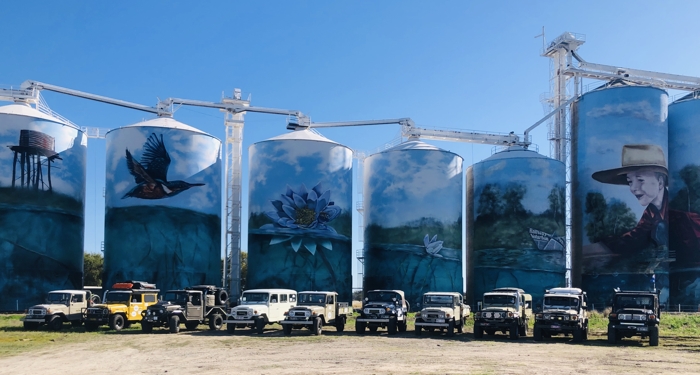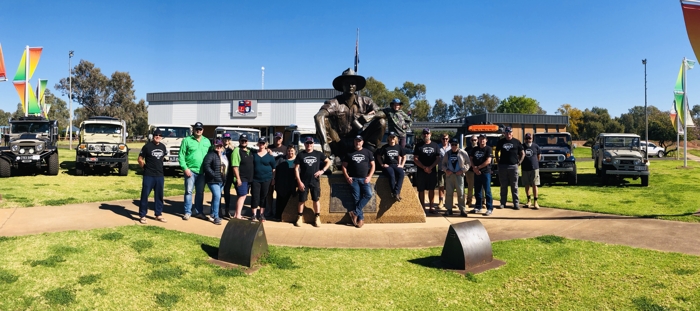 It wasn't just about drought
A Long Drive originally intended simply to raise money to help struggling farming communities but it achieved so much more.
By incorporating a strong social media campaign, showcasing the beauty of the bush, one of the added benefits was being able to highlight the incredible tourism opportunities in many outback towns. There's so much to see and do, if you know where to look!
From Ben's chicken races at The Royal Carrangarra Hotel to the Cosmos Centre and Top Secret WW2 tour in Charleville; the Dirrinbandi River and Rail Precinct, the historic Texas Rabbit Works, the painted silos in Yelabon, Cunnamulla's famous Fella, Nindigully Pub, the Clover Hill Ranch and the beautiful Condamine River Road… I could go on.
We were lucky to visit Blackall-Tambo Mayor Andrew Martin's Sheep Station (thanks Marto), where we also witnessed first-hand Longreach Mayor Tony Rayner's sheep wrangling skills, toured one of the farms previously supported by Drought Angels and did a driving tour of Augathella, thanks to Cr Michael McKellar. Western Downs Deputy Mayor Andrew Smith even shouted us a beer at the Condamine Pub and gave us a bit of gear to auction (thanks Smithy).
Other auction contributions came from Paroo Mayor Suzette Beresford, Murweh Shire Council and Queensland Rugby League, on top of numerous other generous donations.
We must have done alright because the towns and the drivers are keen to see us back next year and, with three million people still living in drought across the state, we are keen to hit the road, although we might have to get creative to make sure we all fit in the photos!
Find out more at longdrivefordrought.com.au or check out the Creek to Coast story here https://www.facebook.com/watch/?v=1085603485209628&extid=uuCYN4rh1SXLCNSP.
It was an incredible journey, one that has not only impacted me personally but also provided insights into the needs of our councils and communities. I am now back in the office and look forward to catching up with everyone at the upcoming LGAQ Annual Conference.
See you out there!

Brent