Grant Office
Securing over $135m in grants for Councils and organisations across Australia
Peak's experienced and dedicated grants team can equip you to develop well-defined grant applications and help manage the requirements of grant programs.
Our Grant Office Highlights
$3.1 billion in Financial Assistance Grants over the next 12 months.
Extension of the Remote Airstrip Upgrade Program
Disaster Ready Fund continued, along with new Flood Warning Infrastructure Network Remediation - $236 million over the next 10 years for rain gauges
The LRCI Program will not continue from 2026-27
A new $200 million Thriving Suburbs Program and a $150 million Urban Precincts and Partnerships Program, alongside the Growing Regions and Regional Precinct Funds
$83.2m over four years for a legislated Net Zero Authority to coordinate communities' transformation to a low carbon economy as well as spending on marine infrastructure in the state's far north
$1.9 billion will be spent on measures to improve the lives and economic opportunities available to Aboriginal and Torres Strait Islander people including,
An additional $250 million will be spent improving community safety, services, education and job creation in Central Australia.
Securing Grant Funding for Local Government - Capability Statement
Our Services
What We Offer
The team at Peak has significant experience assisting councils with successful grant applications, having worked with them across a diversity of State and Federal Government, as well as private sector, grant programs including:
Building Our Regions
Local Government Grants and Subsidies Program (LGGSP)
Building Better Regions
Age-Friendly Community Grants Program
Black Spot Program
Community Resilience Grants
Queensland Destination Events Program
Community Development Fund (RioTinto)
Growing Indigenous Tourism Fund
FNQ and NQ Monsoon Trough Funding
Our grant management and writing consultants will work with you to deliver a thorough and well-crafted grant application that will optimise your chances of success. We can assist with:
Benefits identification and measurement
Project planning
Review of project design
Revenue and cost estimation
Project prioritisation
Supporting documentation
Application writing
Our consultants have extensive knowledge and experience across a wide range of infrastructure and services projects including:
Sewer and water network upgrades
Airport upgrades
Tourism events and infrastructure
Community support programs and infrastructure
Waste management infrastructure
Saleyards and associated infrastructure
Jetties and water infrastructure
Renewable energy and smart city projects
Apply, Track, Close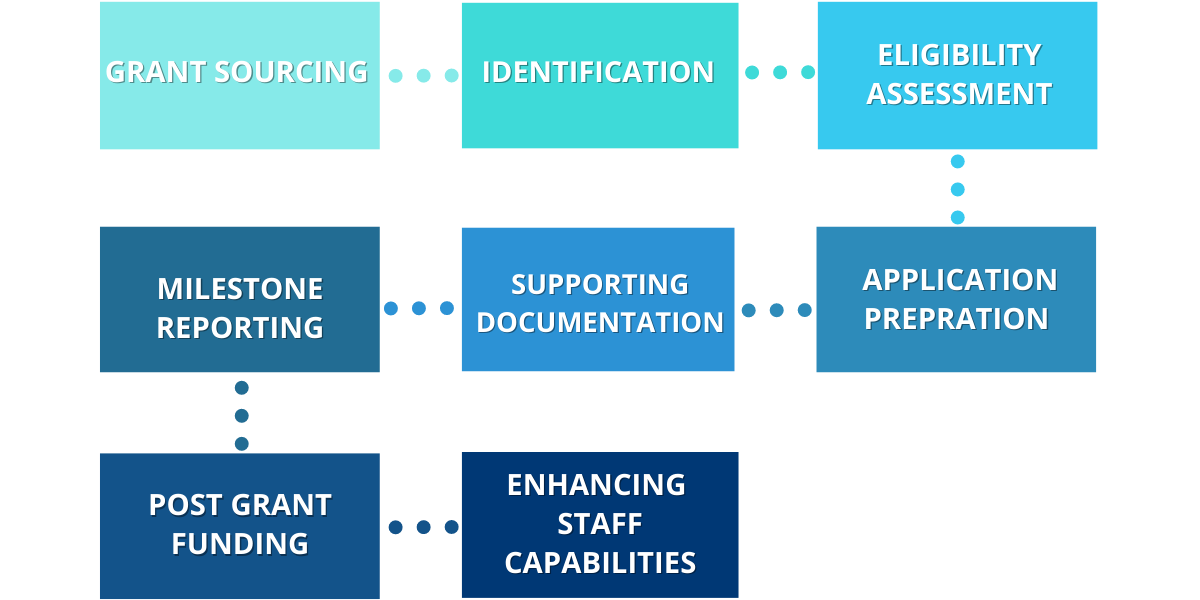 Grant Approval Process
Peak also provides broader grant management services that offer significant benefits to councils. We can maximise your access to grant funding through identification of suitable projects, tracking grant releases, managing applications, and administering the programs. As with all services through our Grant Office, this can be tailored to your council's individual needs.

Peak can administer the grants program in ways that include:

Managing the timeline of grant funding rounds against council's project schedule
Assisting council to identify projects to seek funding for which aligns with council's strategic plan and as directed by council
Identifying eligible project to rounds of grant funding
Acting as the liaison between council and government

Peak will review prior grant applications and supporting documentation against current grant guidelines and published assessment criteria to identify:

Critical information and statistics to be included and referenced in the application
Additional supporting documentation and reports required to strengthen the application, e.g. project plans, programs, cost benefit assessments, etc
Acquittals
Reporting on grant funded activities and expenditure.
Ensure that the grants funds, when awarded, are appropriately used and in line with requirements

Peak is Australia's only infrastructure company established to meet the specific needs of local government. Our complementary services include the conducting pre/feasibility studies and end-to-end project management when council obtains grant funding.