An around the world sailing journey with the Jacksons
In early 2020, our Director of Consulting and Technical Advisory Service, Brian Jackson, took off on a sailing journey with his wife and two sons. Here, Brian shares some insights on what it is like to live and travel around the world in a sailboat during COVID-19 times. Brian is due to return to Peak in late November 2020.
Adjusting to our
new
life
Our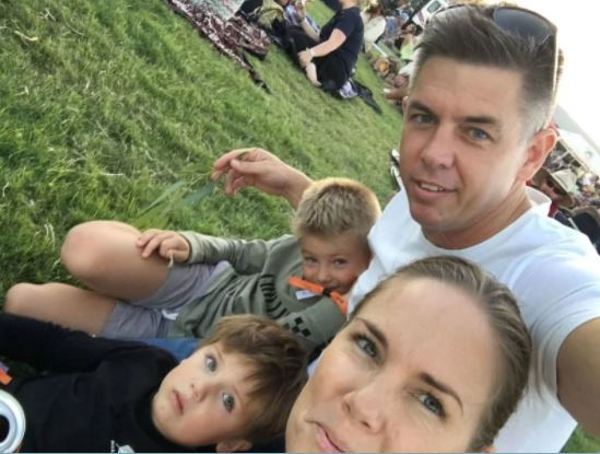 desire to document our 2020 journey for family, friends, colleagues and professional connections, weekly or even monthly through our WOWY website channel, was intended to assist make the most of our year not only for us but for those interested, to communicate how it evolves and to help keep connected from new places far away. Unfortunately, these updates were put on hold until a later date with events that took place. I am happy to say that we have made the best of 2020. We wouldn't change anything. We look forward to updating our WOWY site at a future date. To communicate what took place in more detail, and our unique pandemic year journey.
It's been an interesting seven months since we arrived in Greece, a period of uncharted territory... Really uncharted!
With a mix of experiences, highs and lows, we now have the mental and physical bandwidth to accompany the rich and diverse experiences we have had, and to start writing and talking about our 2020 journey. We feel we can now more holistically relate our journey with some detail, and with retrospect.
So, grab a coffee:
Setting sail:
Greece
From the time we got SV (Sailing Vessel) Coastline into the water in mid-February 2020, we had four fantastic weeks in Greek waters. We enjoyed our time in Greece immensely. During this time the pandemic was taking hold but we weren't too engaged with the mounting global response. I guess this allowed us to blissfully meander for the first few weeks while getting to know our new home and life on the water. We visited half a dozen Greek islands across the Cyclades after departing Aegina for Poros including Syros, Naxos, Mykonos and Chios.
The weather was cool and mixed, with a few storms and strong winds amongst gorgeous winter days. It was a perfect environment to ease into our new life, and to quickly learn all about living aboard – and sailing, operating, handling and maintaining – a sailboat, along with passage planning, manoeuvring and berthing.
Fortunately, we had a week preparing Coastline on the hard at Aegina and she was very well provisioned with all sorts of bits and pieces to allow us to respond to the great number of enjoyable and learning experiences along the way. We rented hire cars for day trips around the islands when we could, and we walked and explored. There are many wonderful things that happened in the first four weeks on the water, including meeting and befriending those aboard SV Sunday (Ryan and Brittni) and SV Salacia (Ric and Lou). This would prove to be an important event for us, which would impact us and our 2020 journey in such positive ways. One defining moment including letting our lines off and plunging into a 14-hour sail from Poros to Syros in the first week on the water. A 4am departure from Poros straight across to Syros. Sink or swim!
On the way to Turkey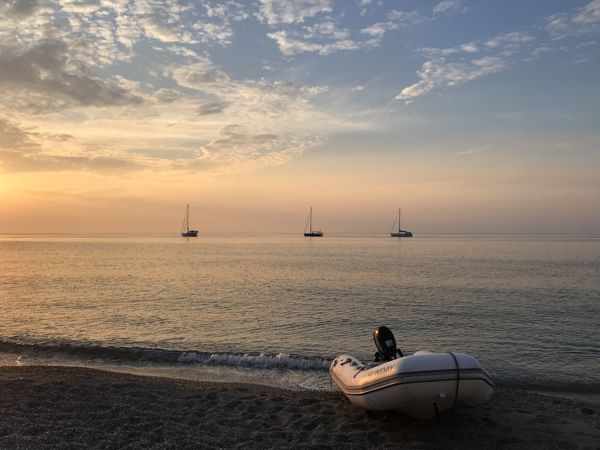 We leapt across to Turkey earlier than planned on 11 March, exiting Chios for Cesme. It was a late departure, arriving at Cesme Marina about 10pm.
We were fortunate to enter Turkey when we did. Even though we were now out of the EU, we were in a place that was safe and very good for cruising off the grid. The Greece-Turkey border closed a few days after we arrived. We now know, had we been stuck in Greece, the lockdown measures implemented by Greek authorities would have had us locked in a marina for four months.
Our stay in Turkey
On entry into Turkey via Cesme, we hoped for just six weeks of cruising the Turkish coastline south towards Marmaris before re-entering Greece and heading west through Crete and onto the Peloponnese; the opposite circular loop to what we had originally planned.
In the end, we spent four and a half months in Turkey due to border issues and political tensions between Greece and Turkey. Most of this time was spent in the Mugla region, in bays and anchorages between Marmaris, Gocek and Fethiye.
Turkey was the perfect place to see out the pandemic between March and July. We are grateful for our time there and the relative freedom to navigate, isolate and see out the height of the initial pandemic period. Generally, we only went to land when we needed provisions; otherwise, we were making the most of our time among the hundreds of secluded and uninhabited bays and anchorages.
Between mid-April and early June, lockdown included to remain on the boat unless for essential purposes. Strictly we weren't even able to swim off the back or dive on our anchor. We stayed out of sight, out of mind. For the most part, we were aliens off radar. Stealthily getting about, not drawing attention of prying eyes.
By mid-June, the lockdown measures had eased a little. The boys were allowed out of their home during specified block times, two days a week. We didn't know ourselves! This period we had adjusted to - being off the grid, self-sustained - a throwback to centuries past. We were now experiencing some freedoms but being humble in our experience, not expecting too much too soon. It helped that we were in great company during our time in Turkey, cruising and navigating the pandemic with the folk on SV Sunday and SV Salacia; Australian flagged boats.
On the way to Malta
We ended up overstaying our visa in Turkey and paying a fine, which was really choice under the circumstances.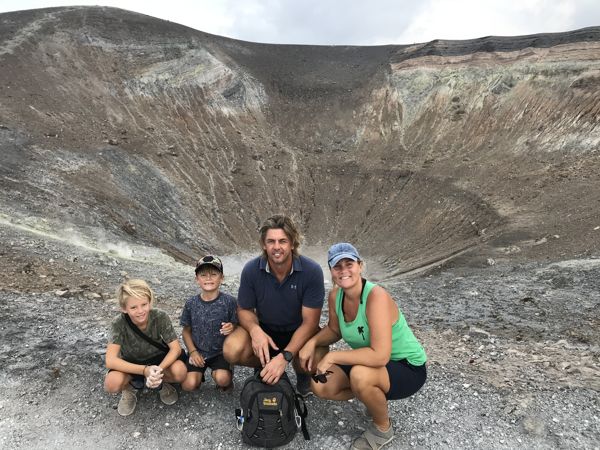 We left Turkey late in the evening of 30 July. Our only option to avoid further fines and to get access into the European Union was a beeline to Malta some 700 nautical miles west. After much preparation and provisioning, this passage took six days and finished with a tough final day and night getting across to the Maltese capital, Valletta. This included a request for a weather update from a Coast Guard vessel 80 nautical miles from Malta. We wanted to ensure the wind and swell were likely to decrease at the time of our passage, as our weather forecast was two days old.
At that point of our passage, the weather forecast was gusting 20 knots with a modest swell. We were getting 30+ knot gusts and more than a modest swell. The Coast Guard obliged – '12 hour forecast to Malta; 20 knots north west Captain'. With a 'Thank you, Sir. Have a great day' and a 'Standing Clear One Six' we maintained our course.
SV Sunday and SV Salacia turned north to Porto Palo at the southern tip of Sicily to seek refuge and obtain diesel supply. After nine hours of surfing and hand steering the swell, we ended up south of Malta. The wind, swell and current keeping us company and delaying our arrival until 0700 on 6 August, some 14 hours later than planned.
Our
stay in
Malta
Our time in Malta was terrific and, in some ways, the second start to our 2020 Journey. After several days berthed at the Royal Malta Yacht Club to get much needed R&R, we enjoyed the sights, bays and anchorages so many Maltese enjoy every day.
We spent almost four weeks in Malta, concurrently serving a 14-day quarantine period before being able to access other EU countries. Malta was fantastic, a small island with plenty of history and things to do.
On the way to Sicily and exploring
the Italian coast
line
We left Malta for Sicily on 31 July, with 'Not Detected' COVID-19 test results in hand in case we needed to present this information to Sicilian Authorities on entry. The Sicily crossing was uneventful, with calm flat seas and beautiful clear skies. Ten hours of our trusty diesel humming away in the background got us into Ragusa, Sicily on dusk where we anchored before heading into Marina Di Ragusa for two nights.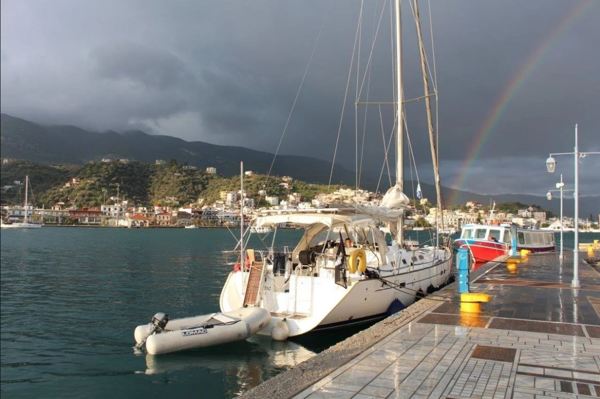 We then made a passage east and around up to Siracusa, where we formalised our arrival documentation into Italy and spent a week at anchor in Siracusa Harbour – more than enough time to explore the city and its sights and wait for arrival of our cruising buddies, SV Sunday and SV Salacia.
We sailed north up through the Messina Strait and visited several islands off the western Sicily coast, Vulcano, Lipari and Stromboli towards the Italian coast. We planned to make landfall at Palinuro, about 60 nautical miles south of Naples.
We'll spend two weeks exploring Naples, Pompeii and the Amalfi Coast before heading back south along Italy's mainland coastline.
N
ow and what's next
Lisa, Braith and Kace are healthy and happy. We have all grown a lot, and together, this year – our boys in particular.
We are looking forward to what the rest of this year has in store for us, including our planned return to Brisbane.
The boys are starting to ask about living in a house again, one that doesn't heel and rock around. Very cute.
There are a few hurdles to overcome in transitioning back to Brisbane, and some uncertainty. However, we're excited to finish our 2020 journey on a high and start our transition into 2021.