How well do you know your procurement spend?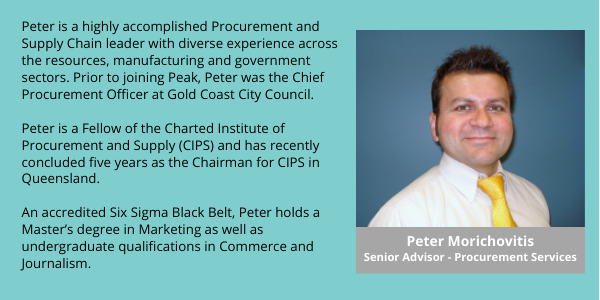 One of the largest expenditure groups for any council is the spend on goods and services i.e., procurement. Over the last five years Queensland councils spent, on average, approximately $7.7 billion annually on goods and services (1). With such a large impact on council budgets, sound procurement and contract management practices are essential for every council. Yet, the Queensland Audit Office (QAO) commonly identifies deficiencies in council procurement controls and did so in its Local Government 2020 Report and, in particular, with councils "unable to demonstrate they obtained value for money from their procurement process".
The starting point for procurement value for money is utilising the right procurement process for each type of procurement spend, however this is only done effectively if you have a deep understanding of your procurement spend. How well do you know your council's procurement spend? The key is procurement spend categorisation and segmentation.
Categorising
procurement
spend
The ubiquitous quest for demonstrating value for money commences with the categorisation of procurement spend i.e., category management. A procurement category is a genre of expenditure classified in a way which best opens the opportunity for a market response. This writer can recall a council that, not too long ago, had three different areas almost simultaneously preparing three separate tenders to go to the market for grass cutting in the council parks, reserves, verges and other lands. Under a category management approach, these three tenders can be combined into one tender with a number of separable portions, allowing multiple contracts to be awarded to various suppliers.
Under a category management approach, other complementary services – e.g., vegetation clearance – can also be added if the suppliers can also perform those services. What are the resulting opportunities? Effectiveness, efficiency and customer service – and of course, value for money. The spend is leveraged for better purchasing-power, there is only one tender process to manage, and one resultant contract to administer.
Segmenting procurement
spend
It is horses for courses when it comes to the best strategy or approach to deliver value for money for a procurement category of spend and to manage the procurement risks. A model which has stood the test of time and is still used today is the Supply Positioning Matrix (2).
A council should not wish to develop mutual or partnership relationships with all of its suppliers. Pareto's principle applies: generally, 80 per cent of expenditure will be with 20 per cent of suppliers. A useful tool in determining those suppliers with whom close relationships might best be sought in managing procurement risks and value for money is the Supply Positioning Matrix.
Supply Positioning is also conducted to:
U

nderstand procurement spend

categories

A

nalys

e

the risk factors to be considered when managing these

categories

Determine

appropriate strategies for each

category

A

llocate resources according to priorities and strategies
Under Supply Positioning, each procurement category is assessed regarding its value of spend and risk (e.g., supply availability, service/production criticality, quality requirements, safety/environmental reliability) and plotted on a 2 x 2 matrix as follows.
The Four Quadrants of Spend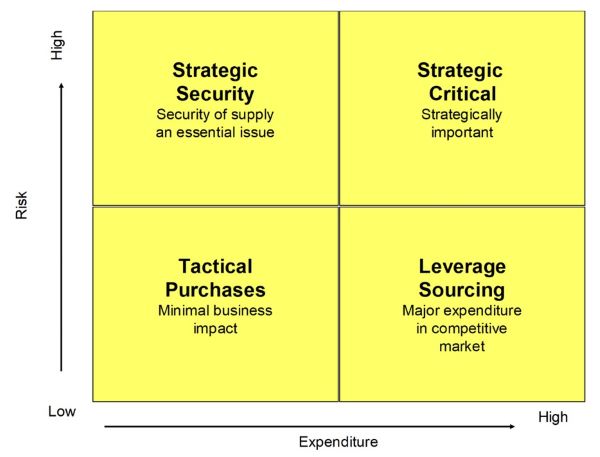 Tactical Purchasing is for low value, low risk goods and services with no special quality, safety, reliability or environmental implications and there are many suppliers in the market to meet council demand. Categories which may fit the Tactical Purchasing segment include office cleaning, catering services, and locksmith services.
Risks associated with Tactical Purchasing are minimal. The objective should be to systemise and simplify the purchasing, and minimise attention for the category. As a result, the strategy for such items should be to adopt simple, cost-effective procurement techniques including eProcurement, fully automated ordering, blanket agreements, using procurement cards, supplier rationalisation and outsourcing. Tactical Purchasing is also a great opportunity for local suppliers, indigenous suppliers and social procurement.
Strategic Security categories are low value, but critical to the sound operation of the council. These might include the management of aquatic or community centres, design services or specialist consultancies.
For Strategic Security categories, for which the risk of non-availability is the principal consideration, the strategic aim should be to ensure continuity of supply. The supply risk can be reduced through a combination of maintaining a detailed knowledge of the market, accurately forecasting requirements and planning procurement, using medium to longer term contracts, carefully managing relationships with existing suppliers, value-analysis in order to simplify the specification and open up more competition, market scanning for effective substitute items or alternative suppliers, and having a back-up plan.
Leverage Sourcing categories are high cost however, no major complications with respect to quality, safety, or reliability. In addition, there will be an adequate number of competitive suppliers. These might include fuel and lubricants, grass cutting services, chemicals and personal protective equipment (PPE).
For Leverage Sourcing categories, the principal consideration is the procurement potential offered by the procurement process and therefore the strategic aim is to maximise your council's commercial advantage. Competitive tendering should be used to encourage suppliers to price competitively. Ideally, contracts should allow the flexibility to change suppliers at short notice. It may be practical to arrange for supplier stockholding and just-in-time delivery arrangements.
Strategic Critical categories are characterised by high spend and risk, generally encompassing a high financial, service or reputational impact, limited supplier choice, high supplier dependencies or volatile market conditions. Examples may include infrastructure construction projects, major ICT systems and kerbside waste collection contracts.
For Strategic Critical categories, the recommended strategy is to establish close relationships or partnerships with trustworthy, reliable suppliers in order to minimise the risk of non-availability and maximise the procurement potential. In-depth knowledge of the supplier is required. Possible tactics include direct negotiation, developing close collaborative relationships, setting long-term, mutually agreed objectives, focusing on Total Cost of Ownership (TCO) rather than price only, and instigating mutual dependency through a strategic partnership or joint venture.
Shifting
quadrants
A worthy objective for any council procurement team is to move categories that sit in the more vulnerable quadrants to where the operation is in a stronger position to negotiate improved pricing and service arrangements. Examples of this are:
Grouping

Tactical Purchasing

items together in order to increase spend volume and move into the Leverage Sourcing quadrant.

Developing alternative suppliers for Strategic Critical items in order to reduce the risk and move items into the Leverage Sourcing quadrant.
How can
Peak
Services
help?
The Peak Services Procurement team is deeply experienced in council procurement strategy and execution. For support in enabling you to work more strategically with your procurement spend to deliver value for money, Peak Services Procurement can assist with:
Procurement strategy, governance and risk management

Category management development, segmentation and strategies

Managed procurement service to assist in removing the risks for your

Strategic Critical

and

Strategic

Security

categories.
To learn more about how we can help you with procurement services for your council, please contact Peter Morichovitis, Senior Advisor on pmorichovitis@wearepeak.com.au.
---
Footnotes:
(1) Queensland Audit Office – Financial Audit Report, Local Government 2020 (Report 17:2020-21)
(2) Adapted from the work of Peter Kraljic (Purchasing Must Become Supply Management, Harvard Business Review, 1983)