Community Safety Planning featuring Mornington Island
By Leanne Tu'ipulotu, Senior Advisor, Peak Services
A Community Safety Plan takes a community-based approach to improve community safety and wellbeing in local communities, identifying actions for council to work with key community stakeholders to take a collective approach to improve safety and wellbeing.
Safety commitment to the community
The Plan demonstrates council's commitment to providing a safe community for all residents, through setting out initiatives that can be delivered through building meaningful partnerships between council, government agencies and local community organisations to promote a safer community and improve the quality of life.
Earlier this year, Peak Services was engaged by Mornington Shire Council to develop a Community Safety Plan for Mornington Island. The community had been talking about community safety and wellbeing for some time. By developing a Community Safety Plan, Council was able to gain critical evidence to quantify the community's needs, enabling a collective approach to addressing community safety issues.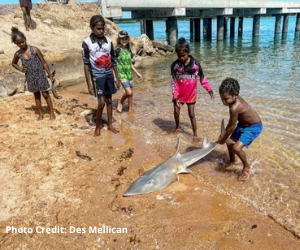 Mornington Island is a very remote community located in the south-eastern corner of the Gulf of Carpentaria, off the northwest coast of Queensland. Mornington Shire is arguably one of the most remote and isolated local government areas in Northern Australia. Of the 23 Islands, only two have permanent inhabitants, with most of the population living in the community of Gununa on Mornington Island.
Mornington Island's estimated resident population is 1,143 persons, of whom 88% identify as Aboriginal and Torres Strait Islander people. Mornington Island has a rich cultural history that dates back thousands of years that have been passed down the generations through song lines, stories, dance and Aboriginal Lore. The Lardil people, recognised as the Traditional Owners of Mornington Island, have occupied their lands for more than 8,000 years.
In 2002, the Queensland Government commenced the introduction of Alcohol Management Plans (AMP) in remote Indigenous communities with the intent of reducing the harmful effects of excessive alcohol consumption, including high levels of domestic violence, child abuse and neglect. In 2009, following a Queensland Government review, a range of sweeping legislative reforms was implemented, resulting in tighter restrictions and complete prohibition for the Mornington Shire, meaning no alcohol, homebrew or homebrew equipment was allowed in Mornington Shire. Locals took to home brewing, providing almost unlimited quantities of very cheap alcohol, resulting in serious social and health problems.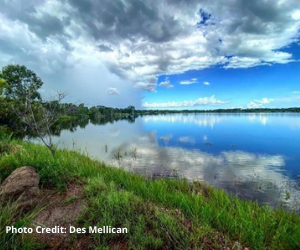 Identifying the need and community consultation
Council identified the need for a Community Safety Plan to ensure communities and individuals are safe, thriving and self-empowered to manage and reduce alcohol-related harm and improve wellbeing.
A Community Safety Plan builds on previous and existing action plans and activities of agencies working in the community and is developed by drawing on the expert knowledge of community members, Traditional Owners, community groups, government agencies and Council.
Community consultation is essential in the development of a Community Safety Plan. A multiprong approach to community consultation enables diverse engagement and participation which, for the Mornington Island Community Safety Plan, included an online survey (hard copy surveys were made available for residents who did not have internet access), assistance was provided to residents who requested literacy support to complete the survey, face-to-face discussions were held with individuals and small groups, as were interviews with key government agencies and service providers. A public meeting was held at the Festival Grounds in Gununa.
For the on-island face-to-face consultations, Peak Services engaged an Indigenous consultant who was culturally accepted by the local residents and community groups on the island, enabling relationships to be quickly built good quality information gathered. Community consultation enables local residents to have a say about their community wellbeing and safety issues and concerns. The Mornington Island community identified that to make long-term and sustainable improvements to community wellbeing and safety, action needs to focus on locally driven solutions that result in changes in both behaviour and attitudes on these difficult issues.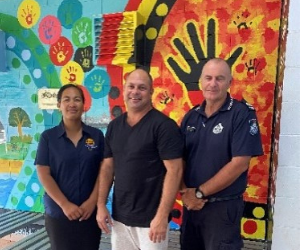 Council and community stakeholders acknowledged that community safety and wellbeing, particularly as it relates to alcohol misuse, is complex and requires a balanced approach.
The Community Safety Plan facilitates a coordinated application and identifies initiatives and strategies that:
increase safety and wellbeing
reduce demand
target illicit alcohol (sly grog and homebrew)
build community capacity and readiness and
promote a healthy culture and attitude towards alcohol, including through legal liquor licensing options.
Through the community consultation, it is important to identify how community members will know if they feel safe.
The indicators Mornington Island residents identified are:
Our people are happy, healthy and safe
There is a decrease in domestic and family violence
Our children are attending school
Our culture is retained and maintained
Our natural environment is valued and well-managed
Mornington Shire Council has been able to use the Community Safety Plan to inform funding requests, advocacy to both State and Federal governments and, in particular, to inform future Alcohol Management arrangements for Mornington Island.
It is important that the Community Safety Plan continues to reflect the voices of the community and addresses its emerging requirements and must be regularly monitored and reshaped to respond to emerging needs and aspirations.
A Community Safety Plan brings together conversations across the community and builds on achievements. The Plan is a living document that provides opportunities for a collaborative approach to the implementation of several key actions to improve community safety and wellbeing in the community.