Floods, COVID, and more floods – nothing was going to stop us delivering training in the NT
Written by Donna Neilson, Senior Advisor/Trainer, Peak Services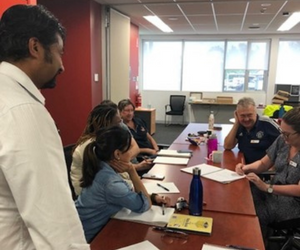 If ever you get the opportunity to visit the Northern Territory, grab it with both hands!
I was fortunate to spend two weeks working there in November 2021, where I saw spectacular landscapes and amazing sunsets.
I also encountered some wonderful locals who are working hard to support their communities through diverse roles across some of the 17 Councils.
Peak was requested by the Local Government Association of Northern Territory (LGANT) to deliver training to the majority of those Councils. After a flight from Brisbane, via Adelaide (where I was met by police keen to check my Border Pass and Covid vaccination status), I finally made it to Alice Springs.
Coming into land, the first thing you notice is the huge number of Australian and international planes parked at the airport - grounded due to travel restrictions and stored in the desert to minimise deterioration and rust while they rest up.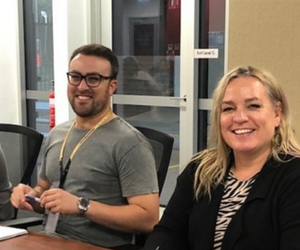 On arrival on Monday, people were sitting in the dry bed of the Todd River, best known for the 'Henley on Todd Regatta – the most fun you can have without water'. On Tuesday we had a full training session of 18 people for 'Business Writing Essentials'. Teams from Alice Springs Town Council, McDonnell and Barkly Regional Councils enjoyed networking with other Council staff, sharing ideas and putting their skills to the test with practical exercises.
'I thought this was a great course, touching base on correct grammar and spelling before really going into more detail of the topic. It was really well thought out with breaks occurring just at the right time, the place was great and the people were so lovely.'
'The networking with other councils was excellent'
Imagine my surprise on Wednesday morning to find the Todd in flood! With 100 millimetres of rain falling overnight, roads were cut, the bridge to the other side of town was un-trafficable and people were out in their droves to take in the rare sight. They say it's lucky to see the Todd River in flood – well, I was very lucky!
This luck however did not extend to numbers for our Wednesday 'Minute Takers' training session. Some staff simply couldn't get there, and others had higher flood-related priorities. Those who could attend engaged well, though we found ourselves with an abundance of catering so we shared the love (and food!) and distributed the extra catering to the grateful workers manning the flood roadblocks.
'Thank you for facilitating the minute taking course'
On the Thursday, high level staff from Alice Springs Town Council undertook 'Chairing Meetings' training and this created some great discussion. Councils play a real leadership role in their communities, and this is never more apparent than in times of natural disaster.
The second week of training took place in Darwin with seven Councils from the north attending. All participants were grateful to LGANT for the opportunity to upskill and mix with colleagues from other Councils, and our first day had a full contingent of enthusiastic students.
'Having everyone do exercises and read them out was a great way to keep the whole class engaged'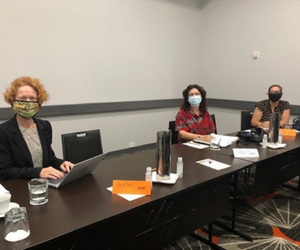 Day 2 was interrupted by news that one Council area was going into lockdown due to a COVID outbreak and attendees from that Council were required to isolate themselves immediately. A mask mandate was now in place for the rest of us. This was such a shame, as those staff were great contributors to the class discussions and networking.
Day 3 continued with reduced numbers and, as always, we were grateful for those who could be there.
Despite our continued challenges, we delivered to 70 team members from 10 Councils over six very eventful training days, with materials and training content customised for NT legislation and processes.
Special thanks must go to Sheridan, former LGANT Member Services Officer for her coordination, support and sourcing the delectable handmade chocolates.
---
Contact Peak Training, Business Development Manager, Patricia Paolini by email ppaolini@wearepeak.com.au or phone 0407 966 716