Keeping Connected and Informed
The Peak Services' office has that departures hall feel about them, as we finally have the green light to get out on the road again.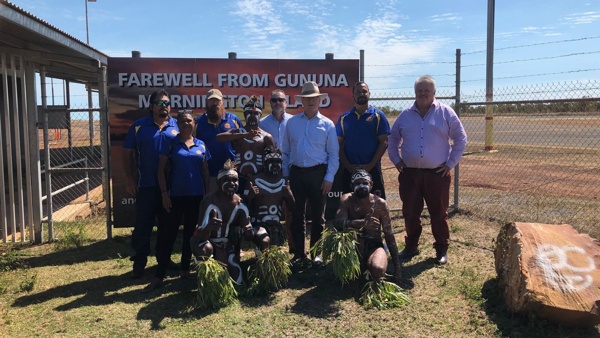 We're getting to as many councils as possible to support the LGAQ's EMU (Elected Member Update) program and I've been lucky enough to get some dust on my boots already, with a special trip to the Gulf of Carpentaria and Cape York.
Together with LGAQ President Mark Jamieson, CEO Greg Hallam and Media Executive Sarah Vogler, we covered some 6,000 kilometres visiting Burke, Doomadgee, Mornington, Carpentaria, Croydon and Etheridge councils in/around the Gulf of Carpentaria and Aurukun Shire on Cape York's western coast.
It was magnificent to get back to this remote and stunning part of the world, and to hear firsthand about some of the challenges communities there deal with every day.
While we're in the bush, entries close soon – 31st August – for this year's Butch Lenton Memorial Bush Council Innovation Award.
You can read this month about the wonderful work the 2019 award winner, South Burnett Regional Councillor Kathy Duff, has undertaken in Proston. Kathy contributed her $10,000 bursary to the incredible efforts to breathe life back into her hometown and it's really making a difference.
As they say in the classics, you have to be in it to win, so if you have a big idea – or want to support someone with one – get around them and nominate them (or yourself) for this prestigious award, with the winner announced in October at the LGAQ Annual Conference Gala Dinner in the City of Gold Coast.
Award entry details, terms and conditions are available here.
With the forced cancellation of so many events this year, we're particularly looking forward to starting our engines in a couple of weeks on A Long Drive For Drought.
We were first scheduled to head out in May, so our convoy of classic 40 Series LandCruisers (mine's an HJ45 from 1973) is just that little bit more vintage than it was, but is hopefully still up for the 2,300 kilometre round trip.
We head off on 29th August and the first of our eight nights away will be in Texas, before we head to Dirranbandi, Cunnamulla, Augathella, Tambo, Charleville, Yuleba, Chinchilla and plenty of other fabled Outback towns along the way before arriving back in Brisbane on 6th September.
A big thank you to Sean Rice (aka Ricey), Managing Director of Proterra Group who has joined us in supporting this event. Peak Services and Proterra Group are the major sponsors of the Long Drive for Drought and it is through the support of people like Ricey, who live and breathe the regions that help make these events possible.
The full 100 percent of proceeds from the event will go the wonderful Drought Angels and, despite the delays and deferments from COVID-19, we're already more than halfway to our $40,000 goal and would love a little kickalong from you to help the Drought Angels help our mighty bush communities.
If you have a 40 Series of your own and want to see some real Queensland – and raise some money for a great cause – get in touch: there's room for a few more!
See you out there!
Brent