Circular economy and benefits to remote communities
By Debbie Spann and Pat Pathmanathan, Waste Advisory Services, Peak Services
What is the circular economy?
Defined as the economy that exchanges the typical cycle of 'make, use, dispose' in favour of as much re-use and recycling as possible, the circular economy's focus is to keep resources in use for as long as possible, so that more value is extracted from them.
It encompasses transformative, systemic and functional, behavioral and cultural changes towards different production and consumption systems - in spite of the current linear economy, which is unsustainable, given that finite resources are taken, used and then lost forever. Defined as the economy that exchanges the typical cycle of 'make, use, dispose' in favour of as much re-use and recycling as possible, the circular economy's focus is to keep resources in use for as long as possible, so that more value is extracted from them.
Why is the circular economy important?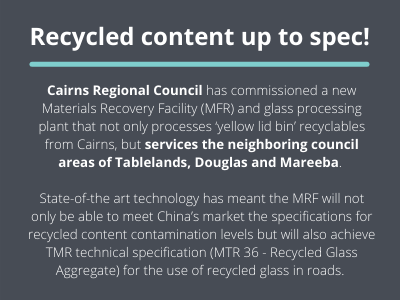 In 2018, the Australian National Waste Policy described the circular economy as aiming to maintain the value of resources for as long as possible. Although over 50 per cent of the waste generated in Australia is being recycled, the continued growth in economic output means that the volume of waste that is going into landfill is on the rise.
OECD researchers highlighted in 2015 that 3 billion new middle-class consumers are set to enter the global market in the next 15 years, meaning that the throw-away culture in the current linear economy can only become more entrenched if the current model remains unchanged.
The CSIRO reported that each year, 90 billion tonnes of primary materials are extracted and used globally, with only nine per cent recycled (United Nations Environment Programme, 2019). While this is unsustainable, the nature of the mainstream 'make, use, dispose' consumer model also has significant detrimental impacts on human health, climate change and the environment.
How can the circular economy benefit remote communities?
Having been identified as a major - up to $4.5 trillion - commercial opportunity (World Business Council for Sustainable Development) the circular economy could support the development of new industries and jobs, reducing greenhouse gas emissions and increasing efficient use of natural resources (including energy, water and materials).
By maximising resource utility and incorporating the concept of circularity during production and consumption (i.e. not just focused on waste management), the circular economy boosts entire economies. For Australia, where the value of natural resources currently lies only in the raw, unprocessed state, a circular economy is critical in ensuring future prosperity and economic security.
Remote communities, in particular, possess a great variety of ecosystems and resources that today's society needs and demands (food, energy, raw materials, etc). This presents an enormous potential for the circular economy to propel long-term economic development and business diversification, as well as social and environmental prosperity, which will assist councils in building regions that are great places to live, work, play, learn and invest, now and into the future.
How to break into the circular economy?
The journey to becoming a circular company, community or organisation will look different for everyone, however we can all start today. Some actions include: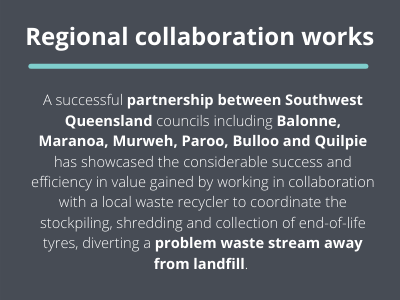 Education and shift in mindset - including community and business, joint council/state/federal campaigns with bottom up strategy
Provision of resource recovery centres
Infrastructure and funding
Designing out waste and pollution
Collaboration with whole-of-government
Learn from success cases
Strengthen the capacity for change - public authority, leaders, programs
Social license
It is important for local governments to use their public procurement in collaboration with clients and procurers, creating demand and bringing parties together to develop innovative ways to address waste management.
The CSIRO has developed the National circular economy roadmap to help Australians recycle and reduce materials such as plastic, paper, glass and tyres, which can inform councils on this journey.
Peak Services' waste management expertise already benefitting Queensland councils
The general feel across the globe is that the switch to the circular economy is becoming a critical element of reducing the negative impacts to our environment, requiring the adoption of new business models that support innovative technologies, sustainable ecosystems, and a brighter future.
Our team is working closely with stakeholder groups, such as the LGAQ, LAWMAC and councils, to understand how we can better manage waste streams. Jessica Jones, our Business Development Director, takes every opportunity when travelling the regions to better understand what their needs are.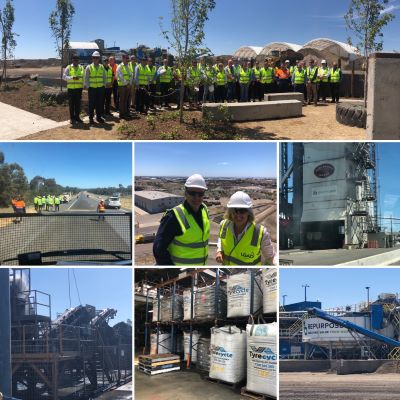 Study tour - Melbourne
"Following the success of the Waste Study Tour to Melbourne in 2019, I have had lots of discussions about the management of waste in remote parts of Queensland and some of the issues that are encountered in managing problem waste streams.

Clearly, the days of 'lightning strikes' to deal with tyre stockpiles are over, however councils are still having to find ways to manage these tyres and divert them from landfill. Given they are not in the levy zone, there are no fees associated with dumping tyres, and this can be taken advantage of by industry. The problem this creates is that when there is no gate fee, there is simply no value in the waste product. How then do we attract industry to invest?"
We were able to bring this type of feedback into the discussion with Department of Environment and Science (DES), Tyre Stewardship Australia (TSA) and the LGAQ, who were looking at commissioning a material flow analysis on tyres to try and solve this problem. We need to be considering the impact on the regions just as much as we consider those communities in waste levy areas.
The planned study tour to the UK and Europe to better understand how we can progress a circular economy here in Queensland may be off the cards for a while, however this doesn't stop us from working towards the 2030 zero waste to landfill target. In this there exists a huge range of opportunities; if COVID has taught us anything, it is that we need to be diversifying our economy and creating new industry. We certainly have the real estate to do it, particularly in regional and remote Queensland, and we have the innovators in our ranks as well.
The LGAQ is taking a lead role in working towards a zero landfill to waste future here in Queensland, supporting initiatives that can not only improve the management of our waste streams, but that also enable industry and economic development. Our waste team works closely with Robert Ferguson, the LGAQ's Lead for Public Health and Waste.
"Finding sustainable, 'fit for purpose' solutions at both local and regional levels remains the cornerstone of diverting waste from landfills, value adding to waste as a resource while progressing Queensland's circular economy agenda. The North Queensland Tyre Study will consider the volumes and flows of end-of-life tyres (EOLT) and the development of much needed feasibility studies and business cases with an aim of attracting new investment and industries across regional Queensland for this problem waste stream," Robert Ferguson Lead - Public Health and Waste, LGAQ.
We look forward to seeing the results of this study, and understanding how this may benefit remote and regional communities work towards being in the driving seat of the circular economy.
*Cover image: Cherbourg's waste recycling facility.
---
For more information on our Waste Advisory Services, contact Pat Pathmanathan on 0406 552 708 or Debbie Spann on 0448 102 122.